On December 4th, roof sealing of Phase Ⅲ Teaching Building was done successfully.
The Phase III project is being carried out orderly according to the original plan, with secondary structure being constructed now. The overall outdoor construction is expected to terminate in the third quarter of 2023, and after testing and commissioning, partial acceptance will be carried out.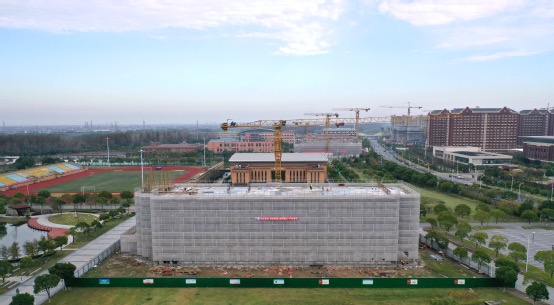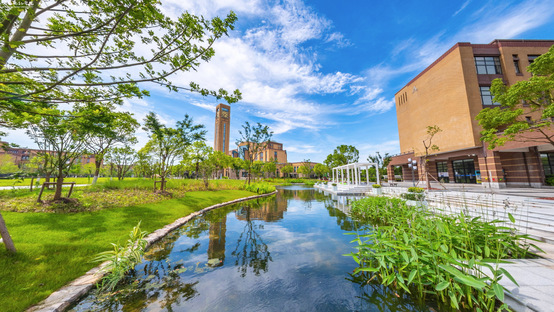 On November 28th, forums Shanghai International City and Architecture Expo 2022 were held at Shanghai Exhibition Center. In the 7th Shanghai Engineering &Consultant Summit Forum themed on Urban Renewal by Building Sponge City, the SDJU sponge city campus revamp won the award of 2021 Shanghai Sponge City Exemplary Project.
The revamp project mainly involves a central ecological landscape lake to the south of Fangzhou North Rd., covering around 1.8 hectares. Its water storage, regulation and purification are achieved by discharge reduction from source and systematic regulation. In the catchment area of the project, annual runoff control rate can reach 85%, and annual runoff pollution control rate can reach 60%, achieving the goal of no ponding and no flooding for once-in-five-year and once-in-a-century rainfall respectively. During its design stage, the project followed the idea of "ecological sponge design for easier outdoor study and social activities" to advance study and life experience on campus, create a strong cultural atmosphere, and enrich students' extracurricular life. The integration of landscape with sponge ecology offers teachers and students an opportunity to enjoy view, relax, socialize, read and research. The landscape also hides in itself the thinking of storm water management by the penetration, retention, storage, purification and drainage. The abundant water borderlines and changeable rainwater garden also fill SDJU campus with a rich ecological sense.
SDJU infrastructure projects have always been aiming to enhance happiness of teachers and students. In the process of planning and construction, the adherence to a high starting point, high standard, people-first, innovative development, equal attention to material conditions and spiritual needs, and equal stress on space environment and cultural ambience is always prioritized in a bid to build a safer, prettier and smarter campus. (Infrastructure Office)