On December 12th, 2022, the UNIcert® SDJU test center accreditation ceremony was held in Room 212 of Kaiserslautern Kolleg für Intelligente Produktion (KKIP). UNIcert® Academic Committee of Foreign Language Teaching and Standard Certification for German University appointed Professor Liu Yueting, executive director, to fly from Germany and officially accredit SDJU as the first Shanghai UNIcert® test center, and appointed Guo Zhengyi, director of KKIP German Teaching Department as member of Education and Teaching Panel. Vice President Yang Junjie, Director of International Affairs Office Sun Lijiang, Dean of KKIP Liu Jun, and Vice Dean Shao Bing attended the ceremony.
Professor Liu Yueting said that UNIcert® has been cooperating with SDJU for 6 years. The two sides got to know each other, became familiar, and supported each other. Members of UNIcert® Commitee sincerely hope that the cooperation can better promote overseas study of SDJU students. He also expressed that based on the cooperative test center, UNIcert® will carry out mutual recognition of credits between SDJU and European universities, thus promoting the substantive recognition of Chinese universities by international standards.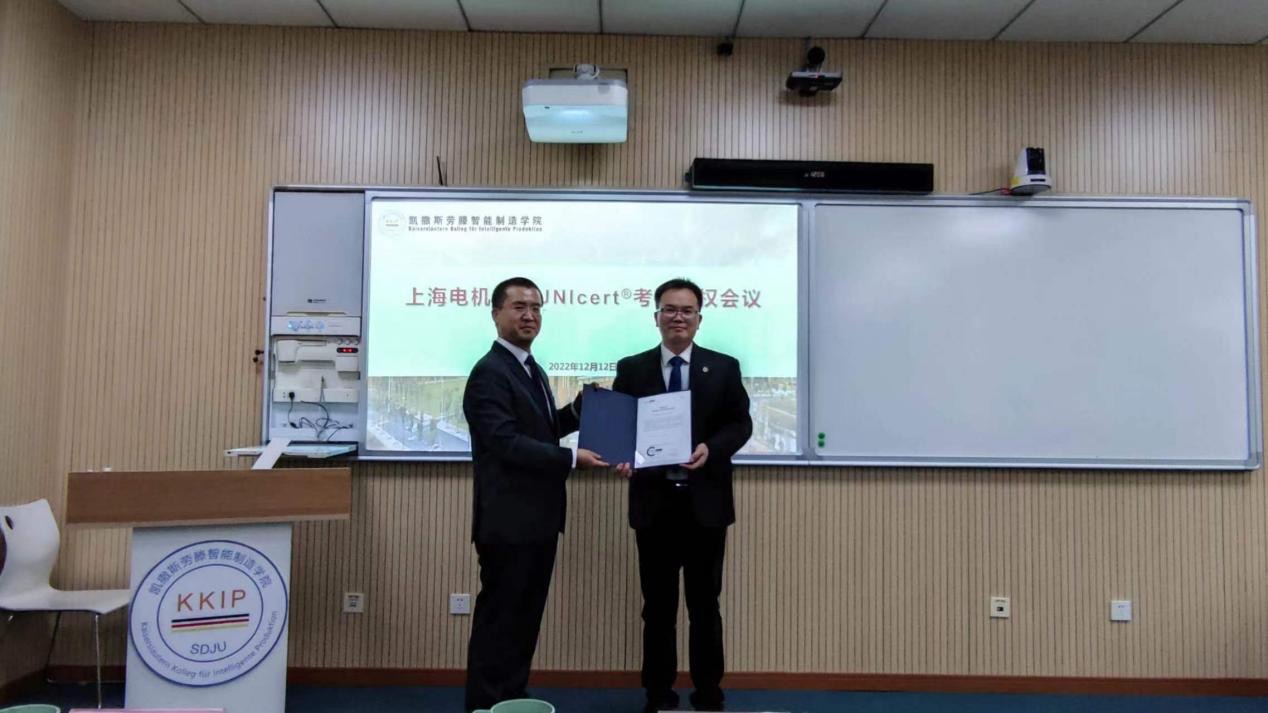 Vice President Yang Junjie accepted the accreditation of first Shanghai UNIcert® test center on behalf of SDJU
Yang expressed his heartfelt thanks to UNIcert® Committee for its recognition of our university. He said that Professor Liu's special trip in defiance of all difficulties, his personal presence in accreditation ceremony and participation in C1 level test created favorable conditions for students to study in Germany in the future, and greatly encouraged the confidence of SDJU faculty and students in German teaching and learning.
Yang hoped that KKIP will learn more, improve continuously, and do a better job in German teaching and UNIcert® test, further contributing to cultivation of applied international talents in intelligent manufacturing. At the same time, SDJU will strive to make UNIcert® test more available, integrate resources, expand influence, better serve Shanghai students in UNIcert® test, making contribution to education of Lin-gang Special Area and Shanghai, and a better Sino-German cooperation.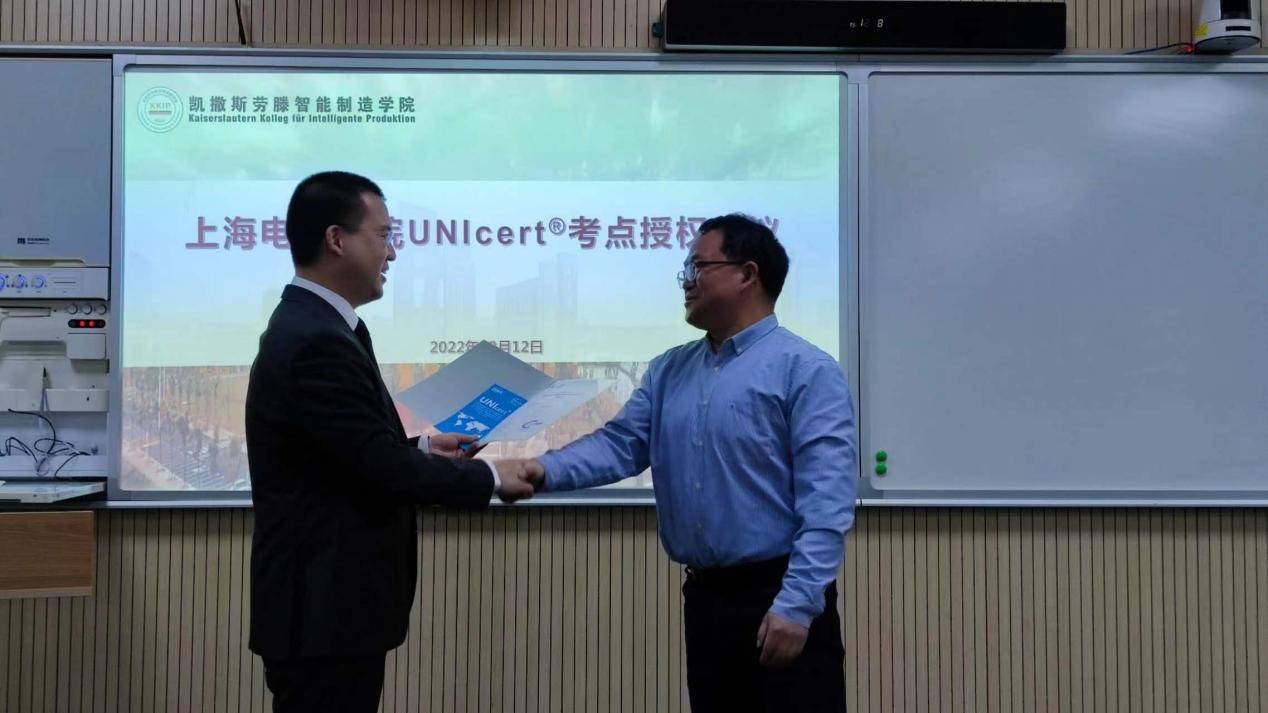 Guo Zhengyi appointed member of Education and Teaching Panel of UNIcert® China Academic Committee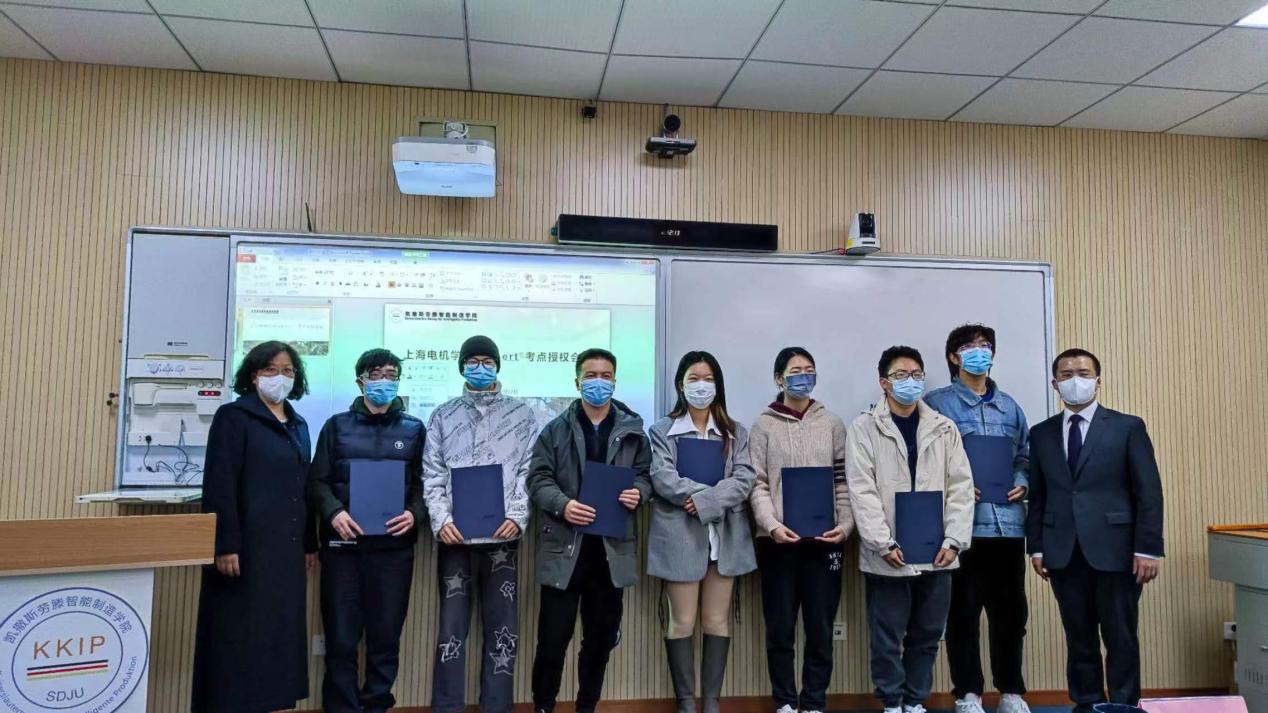 UNIcert® Professor Liu Yueting awarding German B2 certificates to students
The UNIcert® certification system was created by the Arbeitskreis der Sprachenzentren (AKS). Based on the Common European framework of Reference for Languages (CEFR) , UNIcert®, together with Cambridge English Qualifications, TestDaF, Goethe-Institut, and IELTS was recognized as an official language proficiency standard. DAAD (German Academic Exchange Service) lists UNIcert® as one major language reference for scholarship application in German universities.