At 9:00 am on November 18th, the opening ceremony of the SDJU 2022 Sports Culture Festival, i.e., the 42nd Student Track and Field Meeting, was grandly held at Lin-gang Campus track-and-field ground.The ceremony was presided over by Yang Wanfeng, Vice President and Director of the SDJU Sports Committee.Lu Xionggang, Secretary of CPC SDJU Committee, Gong Siyi, Deputy Secretary of CPC SDJU Committee and President, Wang Zhiheng, Vice President, member of SDJU Sports Committee, and Deans of secondary schools also attended the ceremony.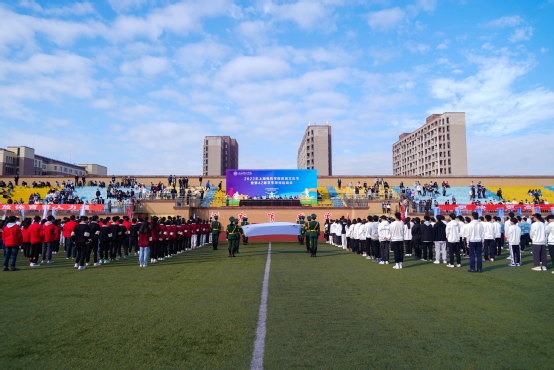 Gong Siyi, Deputy Secretary of CPC SDJU Committee and President,said in her speech that strengthening campus sports has always been an essential part of national education policy and SDJUs spiritual civilization construction.For a long time, SDJU has attached great importance to physical education and the physical and mental health of students, and strived to create a physical education curriculum system with SDJU characteristics.The holding of sports meeting is a thorough review of our university physical education and sports quality of teachers and students, an assessment of home exercise and online physical education teaching during the close-off period, a comprehensive reflection of the competition awareness, team spirit and fighting spirit of the participating teams from all schools, and a good demonstration of faculty and students spirit embracing the 20th CPC National Congress. She also mentioned that the 20-some activities of the Sports Culture Festival are vigorous, lively, and interesting. The fierce competition of this sports meeting will further enhance the health awareness and morale of SDJU faculty and students, promote a civilized, healthy and scientific way of life, study and work, and further the reform and development of SDJU physical education.
Ma Zexin, a junior majoring in Mechanical Design and Manufacturing and Automation from SME (School of Mechanical Engineering) and thecaptain of the university's track and field team, took the oath to fair play as the athlete representative. Hou Linlin, the coach of the men's basketball team of the PED (Physical Education Department), took the referee oath as representative.
Lu Xionggang, Secretary of CPC SDJU Committee, announced the opening of the 42nd Student Track and Field Meeting.
Soon the field was permeated with the sounds of starting guns, shouts and cheers. There were 20 events in this meeting, and 572 students from 9 schools participated. Adhering to the fine tradition of "Friendship first, competition second," the athletes carried forward the Olympic spirit of "Higher, faster, stronger and more united." They dared to push limits, and well demonstrated their level, style and friendship.
After fierce competition, the top three teams in this sports meeting were SB (School of Business), SEIE (School of Electronics and Information Engineering), and SEE (School of Electrical Engineering). SME, SHVE (School of Higher Vocational Education), and SDA (School of Design and Arts) won Sportsmanship Civilization Awards. The winners of the Excellent Organization Award were SEIE, SEE and SB.
Activities of the 2022 Sports Culture Festival are scheduled from November to December. These activities are divided into life sports and competitive sports, including 15 items such as 1-minute squats, push-ups, jacking jumps, sit-ups, darts, bodybuilding, chess, sports photography, archery, etc., which will be undertaken by relevant schools.