On September 28, a Round Table dialogue on the theme of "Shaping EmploymentCompetitiveness from an International Perspective" was held at the Yi Bookstore in the Centre for Student Affairs. As the highlight of the cultural exchange week of Shanghai Dianji University to celebrate the 50th anniversary of the establishment of diplomatic relations between China and Germany, this event attracted the attention of many teachers and students. Three senior executives from German companies talked about their views and started a lively discussion revolving around the two key subjects "international perspective" and "employment competitiveness".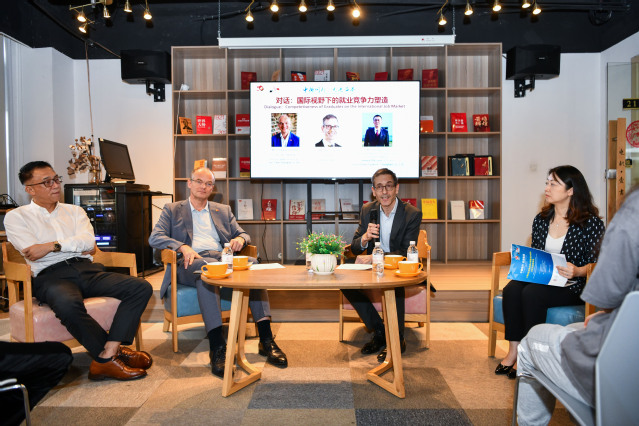 Christian Sommer, CEO and Chairman of the German Centre Shanghai, was invited to speak about his views. He has been living and working in China for more than 20 years. He worked for the first German law firm in Shanghai and was involved in the preparation of the German Centre in Beijing, Qingdao and Taicang. Since 2005, he has taken root in the German Centre Shanghai and has made it an important service platform to assist German companies in entering the Chinese market. Sommer expressed his great pleasure to participate in the cultural exchange activities organized by Shanghai Dianji University to celebrate the 50th anniversary of the establishment of diplomatic relations between China and Germany. He believes that university students, as the young generation, are not only the future of China, but also the future of Sino-German relations. He emphasized that foreign companies recruiting employees not only pay attention to whether candidates' profession and ability match with the job position, but also whether candidates have distinctive personal qualities. He advised graduates to show their true selves during job application, rather than over-packaging themselves in order to get the job. Multinational companies (MNC) expect employees to make great use of their personal strengths, have the drive to work positively and do their best to achieve good results. He also believes that excellent problem-solving skills and work skills are essential. As a developed international metropolis, MNC employees in Shanghai need to be more open-minded, positive and tolerant.
Mr. Philip Lazare is a senior legal advisor from the German Luther Law Firm who has many years of working experience in multinational law firms. In his speech, he said that Chinese university graduates exhibit outstanding abilities and perform well in the international job market. However, graduates are still under great competitive pressure in the job market of China. In his opinion, first of all, the demand for professional talents in specialized fields is increasingly surging with the rapid development of society and economy. Graduates need to further focus on a certain field while having a broad knowledge base. Secondly, MNCs will pay more attention to the personal qualities of candidates when recruiting employees, which are important for fast integration into the company, good interpersonal relationship and focus on work. Those who are willing to share their knowledge with others, respect others, have energy and outstanding organizational skills are usually more likely to be appreciated by their boss. He also reinforced the importance of listening. Listening patiently, accepting opinions with an open mind and expressing personal ideas at the right time are also necessary qualities for a good employee.
Mr. Xie Weidong, the President and Executive Director of German Lenze Group Asia and General Manager of China, has nearly 30 years of working experience in foreign companies and has worked for a number of European and American companies such as Siemens, Fuji Xerox and Milton Roe. He believes that a strong willingness to work, a positive and optimistic working attitude and good communication and collaboration skills are the three competencies that graduates should have in an international perspective. "To do anything, you need to firstly have a clear goal, a strong desire and motivation; secondly, you need to be willing to accept challenges and actively solve problems instead of simply venting your emotions; last but not least, you need to learn to actively listen and think differently instead of having pointless arguments." He also encouraged all students to make full use of their summer and winter vacations to accumulate internship experience in foreign companies during their college years.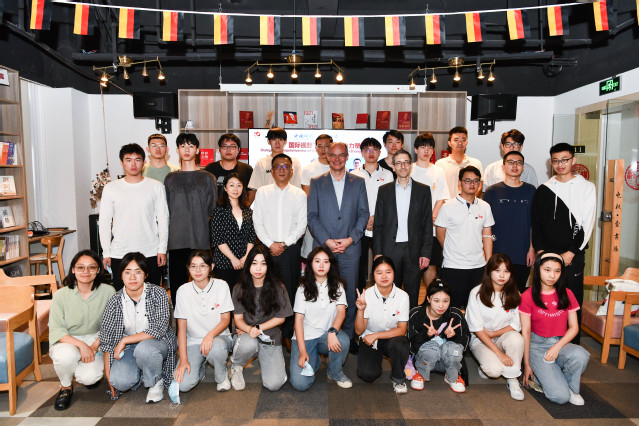 The students also raised questions concerning the difference of employment competitiveness between overseas and domestic graduates in the international market, the language ability and multilingualism requirements of MNCs for graduates, and the competitiveness of enterprises in different countries for graduates. The three executives responded and encouraged students to strengthen their self-confidence, expand their vision, practice their internal skills and enrich their internship experience in order to enhance their employment competitiveness in an international perspective. (School of Kaiserslautern Intelligent Manufacturing)