In order to thoroughly study and implement Xi Jinping's thought of socialism with Chinese characteristics in the new era, the spirit of the Sixth Plenary Session of the 19th CPC Central Committee, to implement General Secretary Xi's important discourse on education and important thoughts on youth work, to deeply study the spirit of General Secretary Xi's important speech when celebrating the centenary of the Communist Youth League of China, and to guide and help young students to have real ideological and political courses, also to get educated, develop talents and make contributions in the social courses, as well as to firmly believe in the Party and follow the Party, and to welcome the successful holding of the 20th CPC National Congress, our university actively builds a long-term mechanism for cultivating people through practice and gives full play the role of social practice in strengthening and improving the ideological and political education of college students. SDJU organizes youth to go down to the grassroots to understand national conditions, exercise their skills, sharpen their will, and dedicate themselves to serve people, society and motherland.
Knowing by Doing · Summer Social Practice
The summer social practice of college students, as an important part of the practical education in colleges and universities, provides a good opportunity for college students to go out of campus, to the society, to understand the national conditions, and to grow in talents.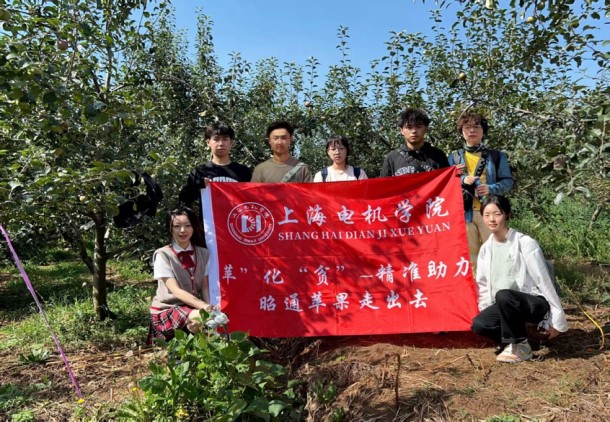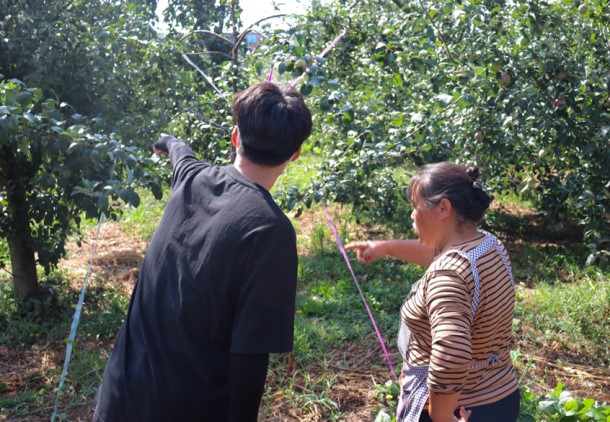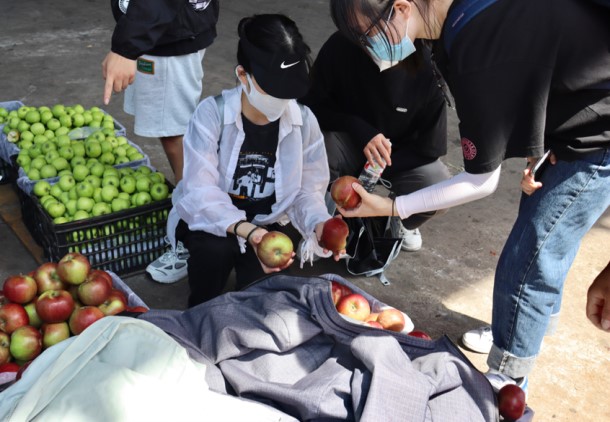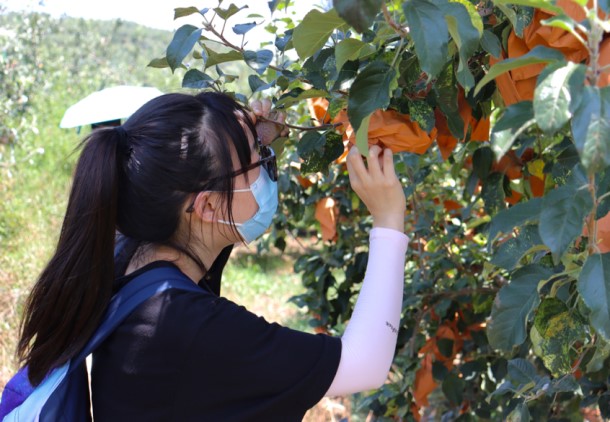 Under the guidance of Teacher Yang Jie, Ding Shen and other students from School of Businesshelped the rural revitalization with "action of youth". Starting from Zhaotong Apple, and to make Zhaotong "small" apple into a "big" industry, they devoted themselves to developing characteristic brand agriculture and activating the rural "hematopoietic" function. Combined with its unique Zhaotong urban culture, the image of fruit farmers in the new era was integrated to create an online virtual character named "Qiu Ping'an". At the same time, the team went deep to local government, into farmers' families and farm product markets to investigate development history, policy orientation, planting and sales of Zhaotong apples. Also, they helped local fruit farmers to find ways to make money by offering effective suggestions, which were well received by the local government and fruit farmers, and highly praised.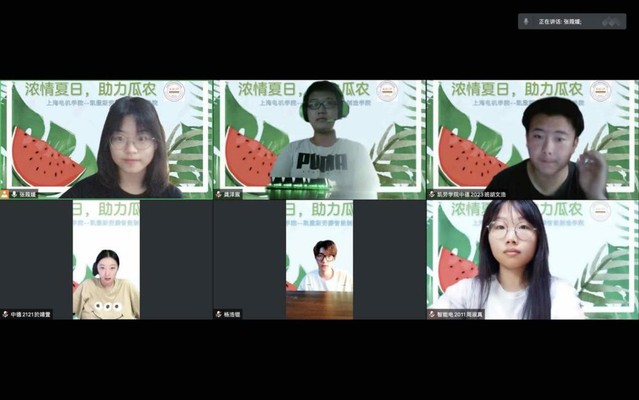 Under the guidance of Teacher Qian Kunpeng, Zhang Jiayuan and other students from School of Kaiserslautern Intelligent Manufacturingfocused on the implementation of watermelon sales plans, aiming to deeply understand the needs and existence of watermelon sales from customers, suppliers and cooperative platforms through social surveys.They also aided expansion and optimization of sales channels according to actual needs, provided plans, feasibility analysis and established a preliminary publicity platform for different regions, so as to facilitate melon farmers to integrate e-commerce into sales, ensured a steady increase of farmers' income, and helped promote rural revitalization.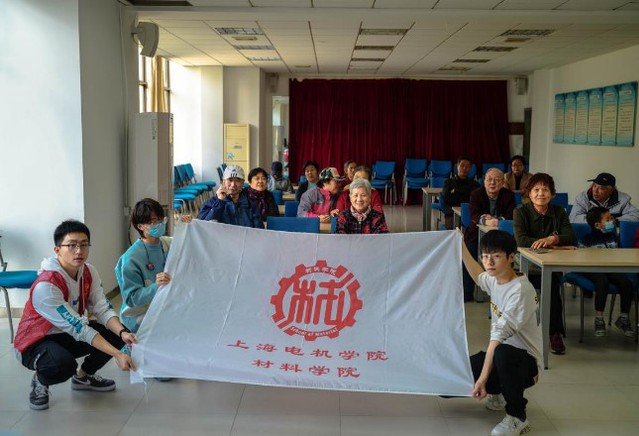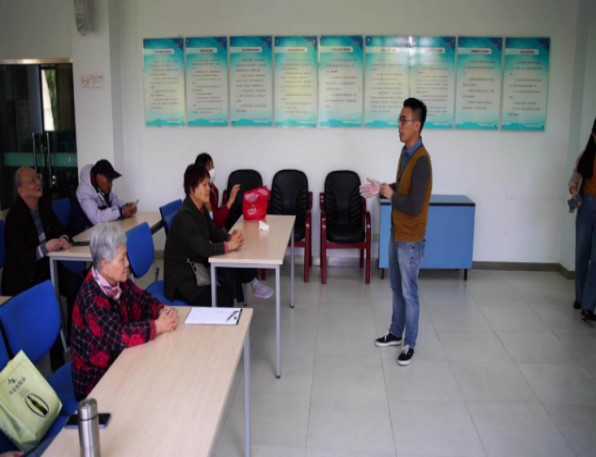 Under the guidance of Teacher Du Haoming and Cheng Mingjie, Wu Yi and other students from School of Materials Science and Engineeringwere committed to popularizing the importance of garbage classification to urban residents, and actively practiced the concept of "Lucid waters and lush mountains are invaluable assets". Through biodegradation technology and material science knowledge, they explained the scientific nature of garbage classification in detail, and covered some blind spots in the back-end waste treatment of science propaganda. This enabled residents to think and gain knowledge, enhanced their awareness and motivation of conscious waste classification, and increased the inducement and attention to the back-end waste treatment. Besides, it further promoted the concept of "I classify, I benefit", and vividly interpreted the idea of "People build cities, and cities serve people".
Working Perseveringly · Fighting against Epidemic
Since the official launch of the normalized epidemic prevention and control volunteer service by Shanghai college students in June of summer vacation, through publicity and mobilization, organization registration, pre-job training, job matching and management, a total of more than 150 SDJU students have taken root in the frontline of this voluntary activity. In the face of the continuous record-breaking high temperature weather in Shanghai, volunteers didn't flinch at all. They fought against the high temperature and bad weather, offering volunteer service in nucleic acid sampling, temperature measurement, code verification, campus guidance, material handling, information support, epidemic prevention propaganda and so on. The sprinkled sweat enriched their youth, witnessed their dedication and fulfillment of responsibility.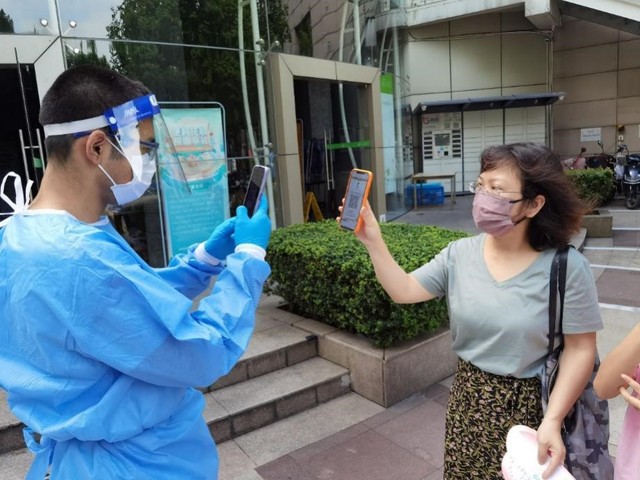 Ye Jingzhou, a junior majoring in Electrical Engineering and Automation(left)
Ye Jingzhou is a CPC probationary member fromSchool of Electronics and Information Engineering. After returning to his community from school, he immediately devoted himself to the community nucleic acid screening and took up the job of temperature measurement and code scanning. His parents also served as volunteers in the community, escorting the lives of community residents, and their families were often seen busy in the community. The whole family took active part in the fight against the epidemic. Ye Jingzhou was motivated and said, "My parents are my role models, though I am younger, I also should make some positive contributions."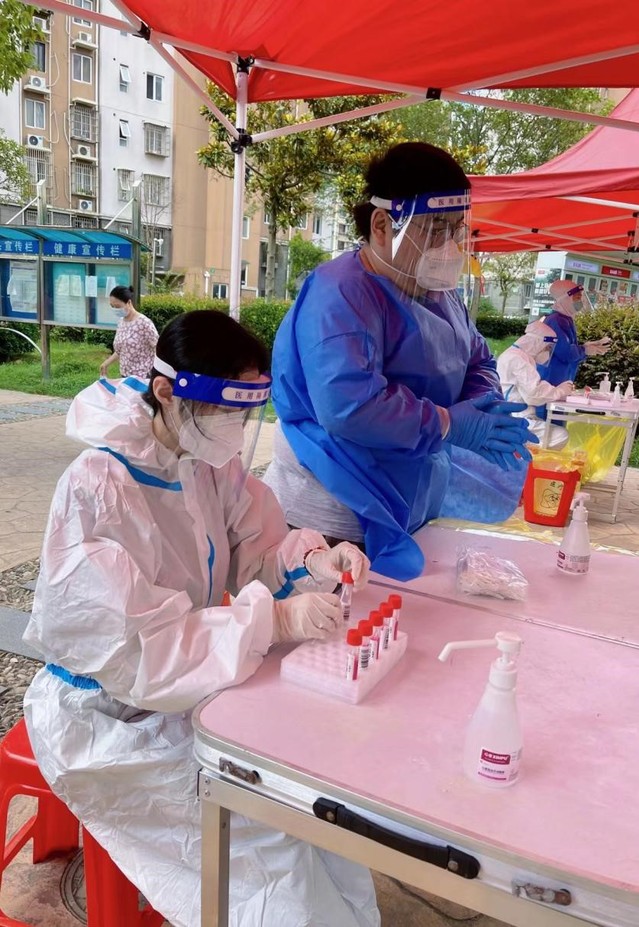 Shen Jia, a junior majoring in New Energy Vehicle Engineering(left)
Shen Jia is a Party activist from School of Mechanical Engineering. As a community volunteer, she participated in many tasks such as taking temperature at community entrance, nucleic acid sampling, information inquiry, and sanitation during the summer vacation. During the community nucleic acid screening, she worked 2 to 3 hours a day as an epidemic frontliner. She said, "In the hot summer, every thank-you from the residents is like a breeze of cool wind, which makes me forget all the exhaustion and fatigue. From her point of view, as college students in the new era, we should have the courage to stand up against difficulties in carrying out the mission of the youth and contributing the power of youth.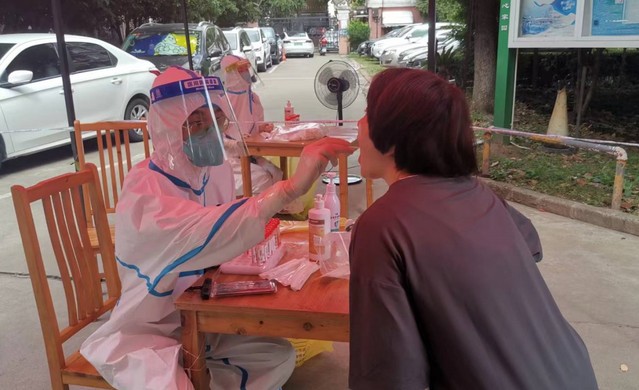 Hu Zhehao, a sophomore majoring in Electrical Automation (left)
Hu Zhehao is a member of the Communist Youth League fromSchool of Electrical Engineering. He always believes that participating in volunteer activities is an important opportunity to enrich his extracurricular time and his life experience. At the end of June, Hu signed up as a volunteer after seeing a notice, and got training for nucleic acid sampling; then at the beginning of July, he threw himself into nucleic acid sampling of his neighborhood. At a time when the temperature was nearly up to 40°C, Hu Zhehao still insisted on participating in the large-scale screening in his community. At the end of each sampling, his clothes were soaked with sweat. Even if it was his turn to rest, he still insisted on sampling. He said, "As long as I work a little more, our screening can end earlier, and everyone can go home earlier to rest."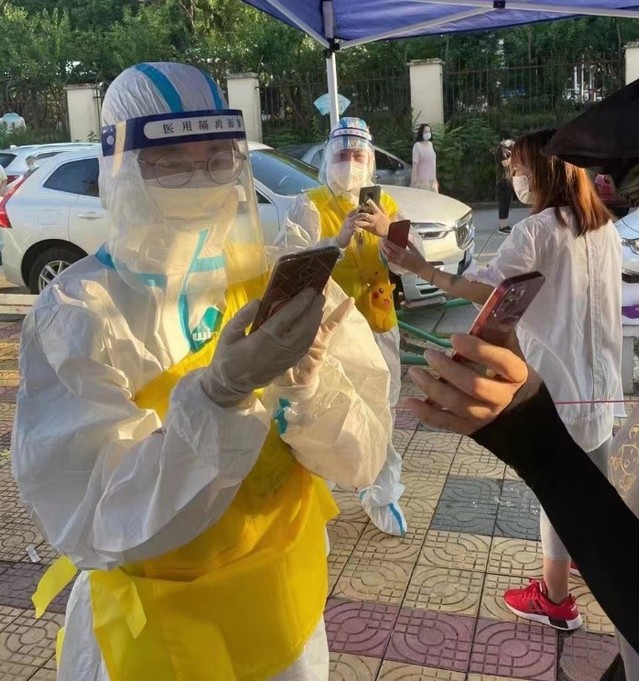 Wu Wenbin, a freshman majoring in English (left)
Wu Wenbin is a member of the Communist Youth League fromSchool of Foreign Languages. After seeing the notice of recruiting volunteers for normalized epidemic prevention and control in his community, he signed up as soon as possible, and participated in nucleic acid screening many times. Fighting in high temperature made him experience in person the hardship and difficulty of volunteer, but the heat wave did not stop him. He was still dressed in white protective suit to contribute to his community epidemic control. He said, "Seeing that the residents are very cooperative and grateful, I am full of energy and feel that everything I do is worthwhile."
Acting Individually · Exercising on Temporary Positions
To implement the concept of "To cooperate locally and to cultivate talents collaboratively", SDJU actively cooperates with government departments, enterprises and institutions in various districts of Shanghai for students to take up temporary summer jobs to help grass-roots public governance and economic and social development.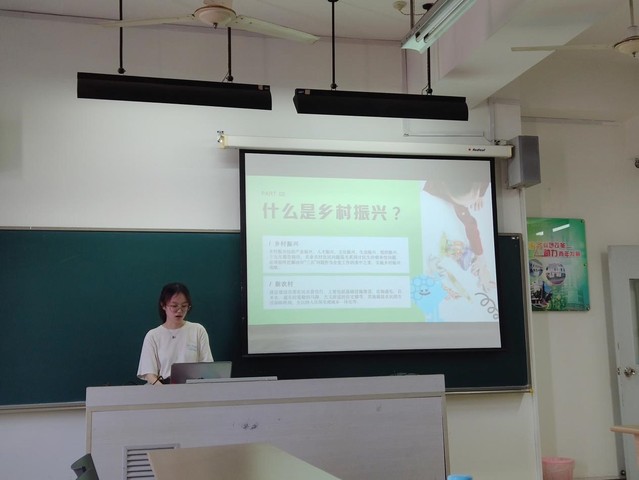 Yao Ruijie, a sophomore majoring in International Trade
"During my temporary stay in the Youth Training Department of Shanghai Youth League School, the most important lesson I learned is to change my roles swiftly and take responsibilities. Also, don't to be afraid of asking questions and be diligent in thinking. Besides, a person needs to mobilize all enthusiasm to ensure the smooth implementation of a work." After a summer at the School, she learned many skills that she read on books but never had the opportunity to try. At the same time, she also showed the SDJU youth spirit of "constantly striving for excellence" in her work.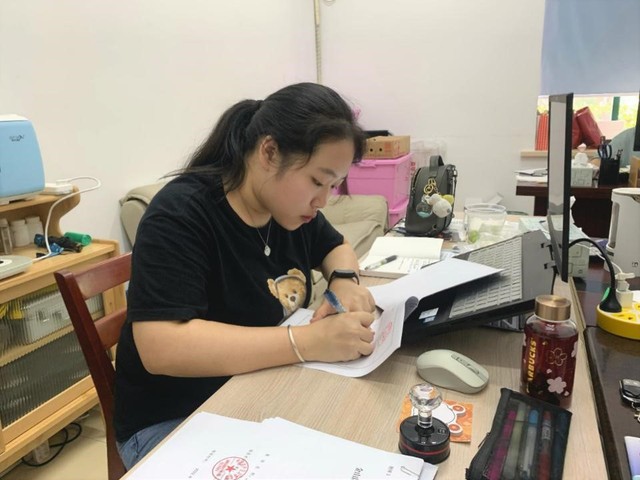 Wu Jiaze, a junior majoring in Product Design
Wu Jiaze is a member of the Communist Youth League from the School ofDesign and Arts. She temporarily worked in Youth League Working Committee of Jinshan District High-tech Zone during summer vacation, and she was also team leader of the current "Golden Seed" program in Jinshan District. As a native of Jinshan, Wu, like other college students who have returned hometown for temporary positions, though with different majors, has the common goal of making a reciprocal devotion to hometown, and radiating the unique power of "Golden Seed" in position.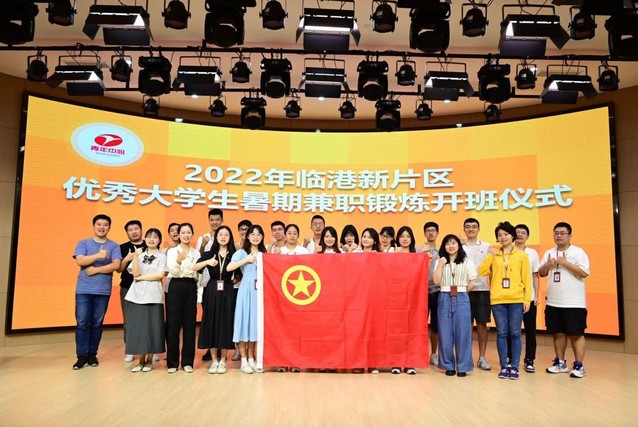 Huang Weiqiang, graduate student majoring in Mechanical Engineering
(the sixth form left of the second row)
Huang Weiqiang is a graduate student ofSchool of Electrical Engineering, and he took a temporary position in the Youth Center of Lin-gang Special Area in this summer. During this period, he participated in the research of Healthy China, Healthy Lin-gang, the compilation of life manuals, the organization of youth center activities and other works. At the same time, he went to the grassroots to assist epidemic prevention and control. Huang always maintained a positive attitude of learning, and made efforts to improve his ability and cultivate team spirit to accumulate valuable experience for future study and work.
Travelling Farther · "Go West" Program
The "Go West" Program for college students is an important measure to implement the strategy of strengthening underdeveloped areas. It guides young students to the grassroots and to the people to make contributions, thus to make the flower of youth bloom where the motherland needs it most.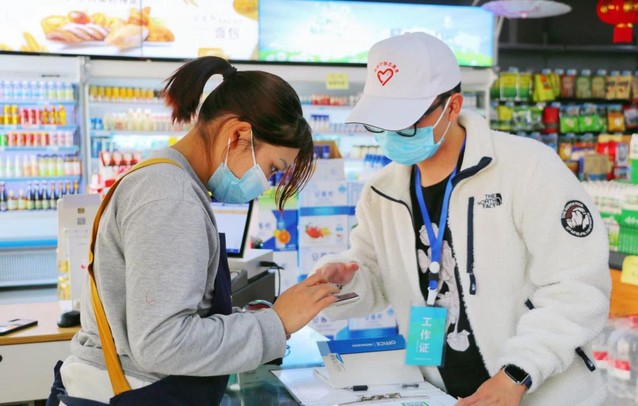 Zhou Guojun, a junior majoring in Mechatronic Engineering (right)
Zhou Guojun is a Communist Party member fromSchool of Higher Vocational Education. During a themed Party Day activity, he learned about the "Go West" Program, and decided to participate. Zhou is currently working in the Youth League Committee of Shangri-La, Diqing Tibetan Autonomous Prefecture, Yunnan Province. He uses his specialties in photography shooting and video making to actively convey the positive energy of youth. From him, youth comes only once and its best interpretation is going to the West, to the grassroots, to places where the motherland needs it most, and to integrate individual self into the motherland's great self!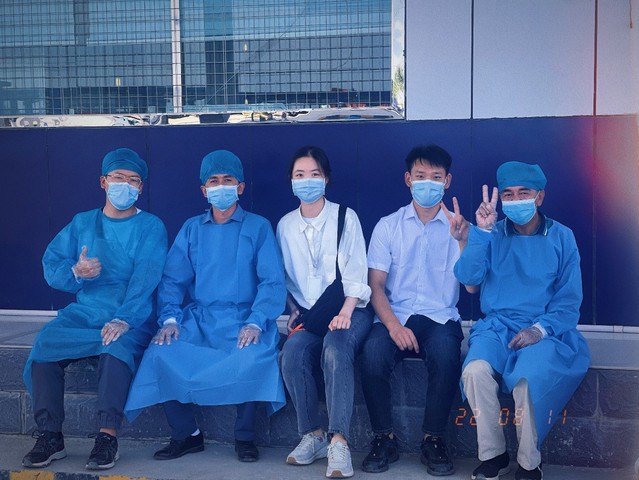 Tian Jiale, a senior majoring in Digital Media Art (the third from left)
Tian Jiale is a CPC probationary member fromSchool of Design and Artsand she has long decided to participate in the "Go West" Program. She is currently working in the Artux City Government Office of the Xinjiang Uygur Autonomous Region, and at the same time she actively participates in local epidemic prevention and control.Facing the new environment and challenges, Tian has never not forgotten the Party's teaching and never backs down. She carries forward the spirit of volunteer service, showing the responsibility of the SDJU youth, and sprinkled the light of youth on the West of the motherland.
Following the Communist Party of China and making contribution! This year, more than 3,000 students from 9 SDJU schools have already formed more than 180 social practice teams, covering more than 20 provinces, cities or autonomous regions across the country. They went down to serve at the grassroots and dove into the frontlines, and combined professional practice and entrepreneurship practice online and offline. They strengthened ideals and beliefs in learning, thinking and practicing by realizing and fulfilling missions in hard work. They embrace CPC 20th National Congress with practical actions, also advance bravely on the new journey of realizing the Chinese dream and the great rejuvenation of our nation!