On the night of July 31, the first batch of 12 SDJU KKIP (Kaiserslautern Kolleg für Intelligente Produktion) students left for Hochschule Kaiserslautern University of Applied Sciences to study abroad for their double degree program from Shanghai Pudong International Airport. Liu Jun, KKIP Dean, Su Qinggang, Deputy Secretary of CPC KKIP Committee and Vice Dean, Zhang Yiqun, Director of Centre for Student Affairs, and Li Xiaomei, went to the airport and saw them off.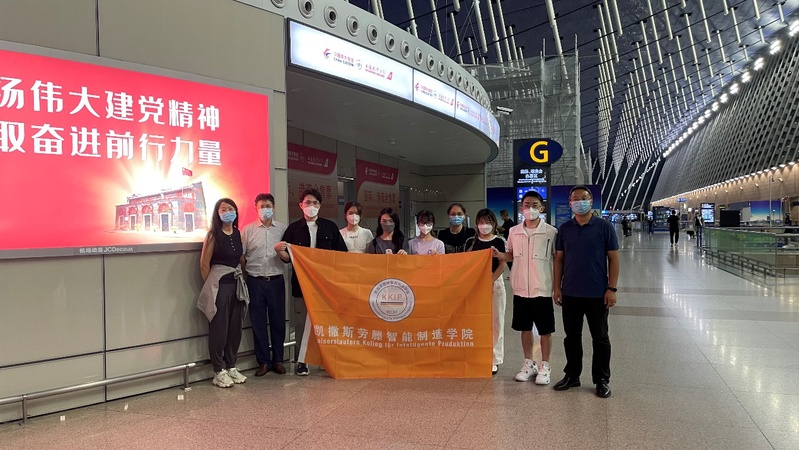 KKIP students and teachers at the airport

KKIP Dean Lui hoped students would study hard when in Germany, actively explore German culture and improve themselves through this learning experience to become modern technical talents with a global perspective. Su encouraged students to uphold the KKIP spirit of helping each other and establish a branch student association overseas as soon as possible. Thus, the excellent practice of helping each other can be carried on to better display KKIP spirit.
This year, there will be totally 23 KKIP students to Hochschule Kaiserslautern for double degrees.The second batch with 11 students, plans to set out to Germany in August 15.Over the past two years, the epidemic unfortunately stopped some students from studying in Kaiserslautern. But from the spring of 2022, Kaiserslautern resumed offline schooling.KKIP made in-time communication with students and their parents and paved the way for those preferring studying abroad. With repeated and detailed linking-up with Kaiserslautern, preparatory works like curriculum articulation, visa and so on were all worked out.Facing the Covid-19, KKIP overcame difficulties, organized and ensured smooth APS interview of Kaiserslautern. Besides, KKIP kept eyes and offered help in visa application as soon as Consulate General of the Federal Republic of Germany in Shanghai resumed office in June. Other affairs like student air tickets and accommodations in Germany were also concerns of KKIP.
Arrival at Hochschule Kaiserslautern on August 1(Beijing time)

2022 has been proven extraordinary because of KKIP students' endeavors in overcoming difficulties and their success of studying in Germany, with both their parents' support and understanding as well as ceaseless communication and mutual understanding between KKIP and Kaiserslautern. Both sides will offer guidance and help, assist students to adapt, and safeguard them to unfold a new phase of learning in Germany. (KKIP)