Youth Day (May 4) symbolizes bursting revolutionary power of the youth. On May 4 more than a hundred years ago, young blood shouldered a great new banner, pointing out a new direction for the chaotic society of that time. Ever since, generations of young students have continued to move forward following this historical course for more than a hundred years. Nowadays, students of the School of Materials Science and Engineering (SMSE) are dashing on their tracks of life, following the exemplary roles of previous generation and passing on the glory of May 4.
"May 4-New Youth" Teach-in
On May 4, 2022, to commemorate Youth Day and welcome the 20th National Congress of the Communist Party of China, SMSE held a teach-in on "May 4-New Youth". In this teach-in, seven addressers showed slides and talked the history of May 4, which moved the online listeners deeply, and the conferencing exuded the patriotic sentiment unique to the new youth in the new era. Thanks to the leadership of the Communist Party of China, we are now enjoying peaceful and tranquil lives. But we should never forget those who shed blood fighting for democracy, science and independence of the Chinese nation, who came forward at the moment of national humiliation and saved the people from suffering with their tide-turning power. They lighted up the future with the torch of spirit by their united burning passion.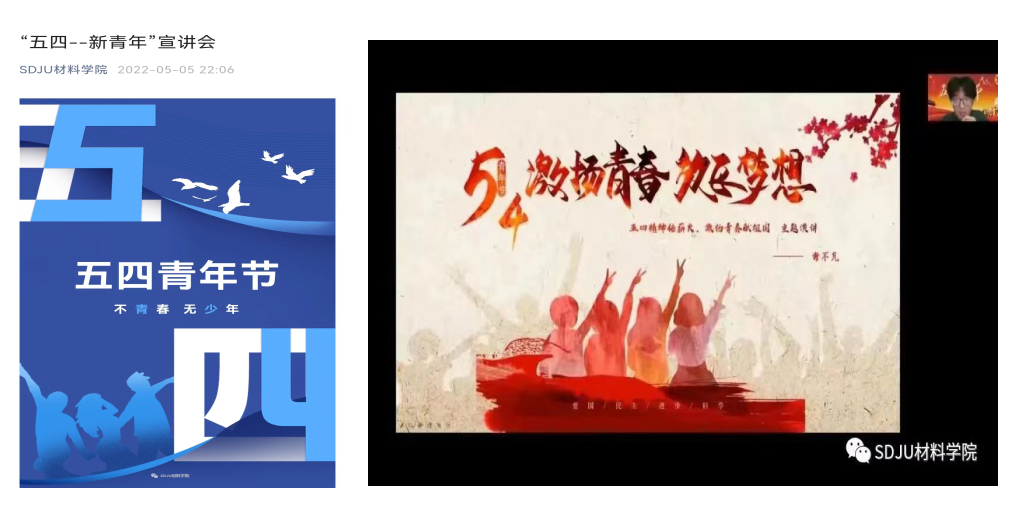 To carry forward the patriotic and scientific spirit of May 4, we, a new generation of youth, should do our own work down-to-earth. Hand by hand, let us use our youth and wisdom to write a splendid chapter,and contribute to a brilliant and magnificent future.