My name is Shengbin Cao. I am an associate professor at the School of Materials, Shanghai Dianji University. I am currently a senior visiting scholar at the Medical Research Center of Harvard University's Brigham and Women's Hospital. In 2019, I applied for a foreign study program, and in 2020, I received a grant from the Shanghai Municipal Education Commission. Due to the dual reasons of the epidemic and Sino-US relations, I could not leave until the end of November 2021. I have gone through some process and felt quite deep. I would like to share with you the experience of going to the United States, and it also prompted me to cherish the time of visiting school for a year.
1.Contact tutor
I started contacting foreign tutors in the first half of 2019. Since I had no experience of studying abroad before, I mobilized the brothers and disciples of the previous doctoral research group to help match the bridge. One of the younger brothers provided me with information: A team at Harvard Medical School is recruiting postdoctoral fellows and suggested that I could try it. So I started to contact with the attitude of "try and try". I found the professor's mailing address on the Internet, and sent him an email expressing his idea of going to his laboratory as a visiting scholar, and attached his resume. After waiting for two weeks for the professor to give a reply, he still felt that it was not appropriate, because he wanted to recruit postdoctoral fellows for more than two years, and basically did not consider it for one year. After receiving this news, I was still quite depressed. After a night of thinking, I sent another email to the professor, mainly expressing my desire to go very much, the involuntary reality and the chance to give another chance. ask. After waiting for another two weeks, he agreed to give an online interview opportunity. Giving the interview opportunity means that the tutor gave the opportunity. Of course, I grasped it well.
Most teachers have had the experience of perseverance, and now we still need to maintain this spirit. Work and life are the same. From maintaining the family in life to making further progress in work, we all hope that we will be persistent. Life will not be exciting enough to give up the pursuit of life lightly! The attitude of being strong when there is no desire at work and the practice of ruling by doing nothing will not promote the development of one's own business.
2.Apply for DS-2019 form
The instructor agrees to ask you to come, he will give you an invitation, and will let you go through the relevant procedures. The most important thing to go to the United States is to apply for the DS-2019 form, also called the J-1 form. The scientific research secretary asked me to fill out at least 10 forms, make a resume in the format of Harvard University Medical School, go to the International Hospital for a physical examination, and provide proof of funding. It may be the cause of the severe epidemic situation and the tension between China and the United States. It took a total of one year for my DS-2019 form from preparation to receipt. It is really not easy! Getting this form means that you can apply for a visa.
When going abroad, you should adapt to the other party's rules, read the other party's documents carefully, understand the other party's thinking logic, and help understand the other party's culture. The cumbersome steps, the time and energy spent on talents are what we attach more importance to and cherish overseas visits!
3.Prepare for the U.S. visa
The tension in China-US Relations is also reflected in the tension when you go to the visa, mainly due to factors such as sensitive majors and the tendency to stay in the United States. I did some homework and prepared some materials: personal resume, financial aid certificate, unit introduction, family introduction, etc. I don't need much English expression, just show the materials to the visa officer. Give me a green note on the spot-congratulations on your passing, if it is a pink note, it may be delayed for several weeks. After getting the certification, other things can be settled, such as buying air tickets, renting a good house, checking transportation, buying insurance, and preparing nucleic acids. Now that the Internet information is developed, there are strategies for every city in the United States, which can be browsed online.
Some colleagues feel that they can express themselves very well in English, so they talk endlessly, and they will lose their words. When applying for a visa, calm down, keep smiling, not humble or overbearing, just express it slowly.
4.Onboarding training and subject exchange
Within three days of arriving in the United States, you must register online and send a message to the research secretary of the research group to confirm that you have arrived in the United States. Within a week, they will arrange training, including American policies, transportation, and insurance. Different schools also arrange induction training. During the training, I was given the flu vaccine and uploaded the domestic new crown vaccine documents. In addition, the visiting unit also arranged a third-party company to conduct a background check on me, which is rather surprising to me.
After the entry procedures were completed, I took the initiative to find a mentor and conducted in-depth exchanges. He first understood my domestic topic-what I can do, and then he asked me to talk about the plan I want to do here-what I want to do; finally, combine My actual situation talked about his thoughts-what to make. So I visited the laboratory, it was brightly lit, there were people 24 hours a day, and it was open for Christmas, and my colleagues were very hardworking. The mentor will not supervise you, it is all voluntary.
5.Setbacks and gains
Before I came, I thought I had the English level of reading and reading newspapers. It should be no problem to come to the United States to study, but I still have a language barrier when I came here. I need to show the courage of Phoenix Nirvana and improve my American English listening, speaking and writing skills in an all-round way. Due to the epidemic, there are relatively few open-ended public places for communication. In addition to the cultural differences between China and the United States, I have not been here for a long time, and I feel that I have not yet integrated into the American cultural life. The biggest difficulty is loneliness. Often solitary, no one may say a word to you a day. Because I am not good at actively communicating with people. Every night I imagine the current domestic time. I often get up in the middle of the night and sit in front of the window to look up at the starry sky, watching the air flow in the sky, looking back on what I have come, and planning what I will do tomorrow and in the future.
Therefore, I now understand why people studying abroad are more independent. Another surprise is that cooking in a foreign country must be more popular than writing articles! I wish you all a happy visit!
ShengbinCao
December 29, 2021
E-mail: scao8@bwh.harvard.edu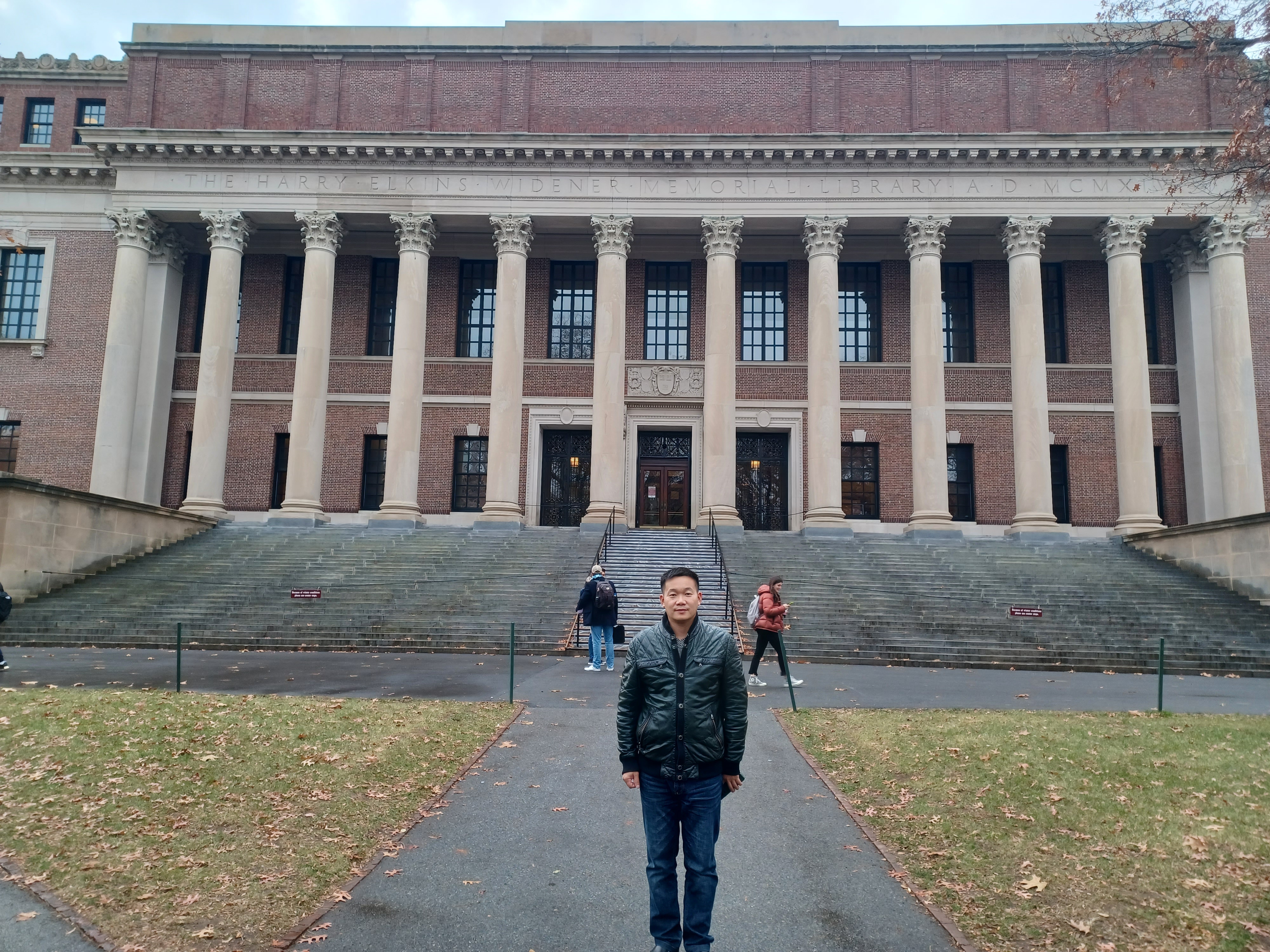 In front of the HarvardLibrary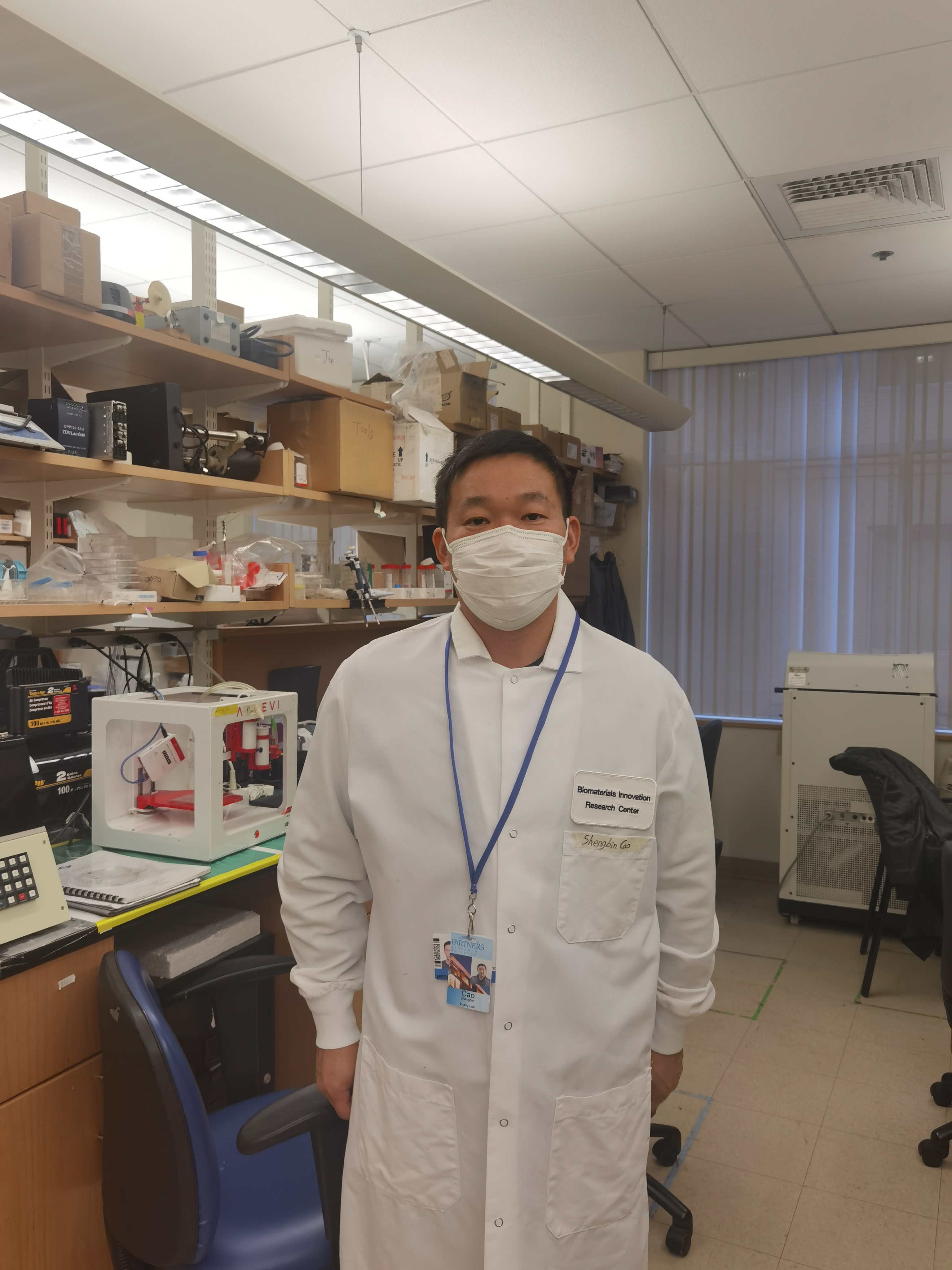 In the Biomaterials Innovation Lab