The 2021 Orientation for international students was held on the afternoon of November 5 and attendees included President Hu Sheng, Vice President Yang Junjie, leaders of relevant functional departments and secondary schools, counselors, international students of 2021 and so on.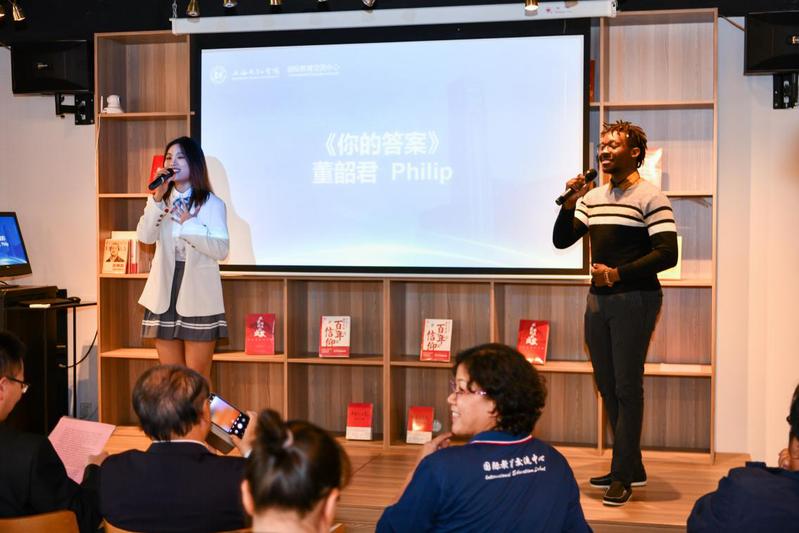 At the beginning of the ceremony, all studentswatched video of beautiful campus scenery together filmed in October by Ansfidine, an international student admitted in 2018 majoring in software engineering. Dong Shaojun and Philip's moving chorus Your Answer brightened the atmosphere and drew wide open curtain of the ceremony.

Vice President Yang extended sincere congratulation and warm welcome to all freshmen, and introduced achievements of SDJU internationalization and fruits of international programs. He encouraged freshmen to quickly integrate into SDJU family, enrich themselves, pursue dreams and become an excellent international talent!
Faculty representative Zhang Xu introduced CPC General Secretary Xi Jinping' ideology of a Community of Shared Future for Mankind to International students, and encouraged everyone to make plans for the future, keep pushing and make efforts to the common future of mankind.
President Hu also spoke to 2021 international students. He remarked that located in Shanghai China, SDJU enjoys exceptional regional advantages, and commits to pooling educational resources and advancing education to build better learning platforms for students. He hoped students to seize every opportunity,expand their knowledge and ability, dare to challenge themselves and become excellent SDJU students who "always strive to be strong and outstanding".

Ansfidine, a Comoros student expressed gratitude and affection to SDJU and hoped freshmen to enjoy wonderful campus life. Ronald, a Zimbabwean freshman shared his unforgettable experience with excitement of winning silver medal in dragon-boat race representing SDJU and said he was looking forward to studying here in the future.

With his song Friend, Irchad ignited enthusiasm of audience, who hummed along with the melody while waving flags. Jimmy's own Rap song and the Hip-hop by Sadi and Issam climaxed the atmosphere when all students cheered in exultation.
The ceremony came to an end in cheers and laughter. It is hoped all international students can plant seeds of hope in SDJU and harvest their fruits four years later.
(Center for International Educational Exchange)