From Nov. 13 to 14, the 46th ICPC Asia Regional (Jinan) smoothly drew the curtain. Organized by Qilu University of Technology and drafted by Peking University, ICPC this year pooled computer talents from 800 teams around 289 universities, such as Tsinghua University, Shanghai Jiaotong University, Zhejiang University and University of Electronic Science and Technology of China.

The contest was unveiled at 11 o'clock on Nov. 14. After a five-hour fierce rivalry, SDJU team consisting of Xu Huan, Xu Jiahui and Wang Ning under the instruction of Prof. Ji Shunru from School of Electronics and Information Engineering was awarded the bronze medal. It was the first time that SDJU had won medal in the competition.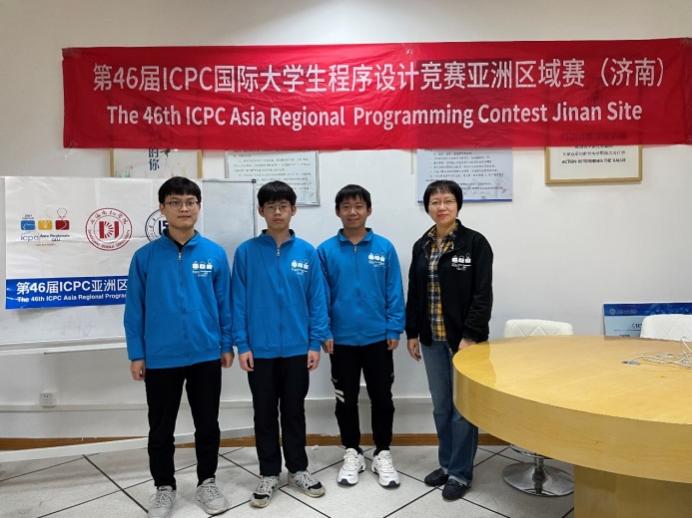 ICPC receives global recognition as the world largest and highest collegiate programming contest,and is acclaimed as the Olympiad of the computer realm. It is staged into Regional and World Final, evolving into an important activity to cultivate talents with all-round competence with a five-decade development.
Compared with other programming contests, ICPC outstrips in difficulty with a particular focus on high-efficiency of algorithm. Therefore, competitors should not only address designated issues but also tackle them in the best possible way. ICPC involves a wider range of knowledge, directly relevant to undergraduate computer competence in programming, discrete mathematics, date structure, artificial intelligence and algorithm design and analysis, not to mention a higher math ability and English proficiency.
ICPC emphasizes on cooperation and team spirit, because the three team members are required to work on one computer together and program under real-time evaluation and dynamic ranking. ICPC also sets a pretty high bar on innovation for the unavailability of ready algorithm. (Ji Shunru)