The SDJU Theatre of Lin-gang Campus on the night of April 26th witnessed the opening ceremony of the 13th Cultural Festival and the college-wide campaign on CPC history learning and education. Hu Sheng, SDJU President, attended on invitation to enjoy the fruition of participant's work.
Revolving around the theme of Time Travel, the activity recalled the glorious history of CPC to salute her spectacular centenary. The dialogue, between youngsters and time, symbolizing a longing for a better future, included three chapters.
Recalling the eventful past years and reviewing original aspirations
The classical dance Pure Serene Music, song Katyusha and sketch Messed-up Delivery, with their respective mellifluous melody, passionate voice and sincere utterance, displayed permanence of life in different eras with diverse artistic forms.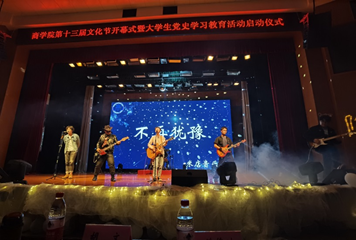 Live the day to the fullest in your prime
A series of exceptional performances were presented before the audience, and the catwalk Time Travel, dances like Renaissance and Guess What We Are Dancing as well as song medley Old Time Memory thoroughly demonstratedbooming campus culture and students' positive and optimistic attitude towards life in the new era.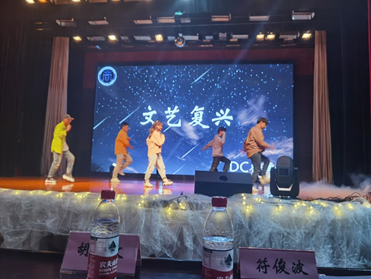 Staying true to CPC original aspirations, holding on to her founding missions
From Yuyangli to Zhongnaihai and from Shikumen to Tiananmen, the grand journey of CPC striving and realizing national independence and liberation for all people was reenacted on stage, one by one. Deeds of Wang Jinxi, Lin Junde, Nan Rendong and Zhong Nanshan in the midst of building socialist China, deeply moved students and teachers.
The opera The Spirit of Dianji-The First Ten Thousand Ton Hydraulic Press of The New China vividly reconstructed the hardships of manufacturing China's first such press of it's kind and was performed on stage by Youth League General Branch of Business School.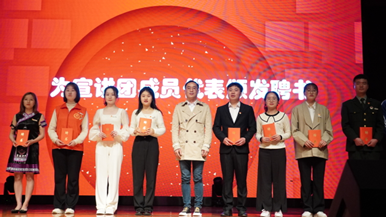 Chen Xiuchun, vice-deputy secretary and vice-dean of Business School, introduced the detailed plan for the education campaign of learning CPC history in Business School. Next, Xiang Jun, Secretary of CPC BS Committee, granted certificates to teach-in members. After these members took oaths to fulfill their duties guided by Mr. Fu Junbo, counsellor Li Chang and student Liang Yisheng delivered the first lecture Who Is the Most Respectable Figure for this campaign.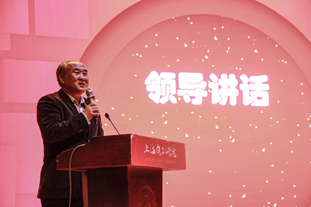 President Hu Sheng spoke and concluded this opening ceremony. He stressed that Learning of CPC history is a momentous decision made by the Party Central Committee with Comrade Xi Jinping at its core, and college students should be fully aware of its significance, committed to learning history for knowledge, morality, trust and practice. During the process, the history of SDJU should also be studied. Developing and progressing for nearly 70 years, SDJU's character is synonymous with perseverance and pursuit of excellence and all SDJU students must value integrity, respect and care for each other, bravely pursue excellence, cultivating self-confidence and never surrender to difficulties.
The Chorus We Are All Dream-seekers by all performers and counsellors echoed the successful ending of this campus event. (Fu Junbo, Xu Jiayan, Zhou You)