In memory of Qu Yuan, we set the day when he threw himself into the river as the Dragon Boat Festival. On the Dragon Boat Festival, we all eat zongzi. On the eve of the Dragon Boat Festival, the Third Canteens of Lingang campus were full of fun. The activity of Experiencing Chinese traditional culture and presenting gifts for the 100th anniversary of the founding of the Communist Party of China was held here. More than 50 Chinese and international teachers and students welcomed the Dragon Boat Festival together in the way of telling the story of the Dragon Boat Festival, making zongzi and perfume pouches.
After introducing the history and customs of the Dragon Boat Festival, teachers and students gathered together and began to make zongzi and perfume pouches. They made zongzi with reef leaves and rope. After a while, lovely green zongzis came into the world. "This is my first time to make zongzi. It's amazing! It's easier for us to understand and accept Chinese traditional culture through this activity." NICOLE from Zimbabwe was smiling with zongzi held in his hand. He enthusiastically taught other international students how to make zongzi. After zongzi was made, they put it in the shape of number 100 to celebrate the 100th anniversary of the founding of our party.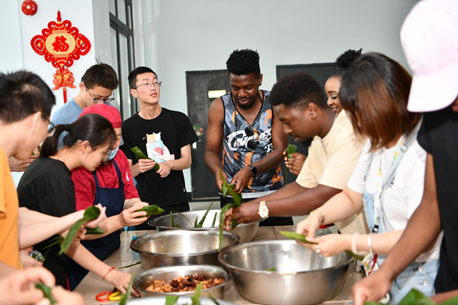 After that, Chinese and international students picked up the materials to make perfume pouches. After carefully studying the process of perfume pouches, they rolled up sleeves, threaded the needle and filled the pouches with the calamus and their blessing. Soon, many distinct, colorful, fragrant pouches were in front of us. "Chinese culture is really interesting. I will treasure my works. I want to spread Chinese culture to our country and let more people fall in love with Chinese culture, IVAN, a Cameroonian student, hanging a perfume pouch in the shape of zongzi said excitedly.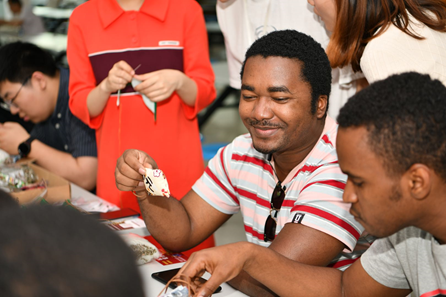 This activity was jointly held by International Affairs Department, the party branch of Logistics Support Department and the School of Electrical Engineering. The activity was taken as an opportunity to enrich the students' campus life and vigorously carried forward the excellent Chinese traditional culture.