"I would like to give this 'glory badge' to President Hu because my successful volunteer experience is never possible without the support and encouragement from SDJU." "I want to send this 'first-timer' badge to Secretary Li. I have just started to work this year, and it's also my first time to volunteer in CIIE." … On the night of Nov. 12, Room 330 of SDJU Administration Building was immersed in extra vigor and joy. SDJU Little Leaves gathered together after nucleic acid test, and held a special Youth League event, themed on "Fulfilling Expo Dreams and Looking Ahead" with faculties who had long expected their return.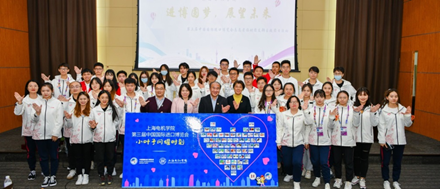 Back to campus from CIIE and carrying on Expo spirit
SDJU Little Leaves have returned triumphantly from Expo. Apart from stories to share, the badges they earned definitely brightened their volunteer experiences. After receiving certificates and commemorative badges from school, Little Leaves returned favor by donating their CIIE badges.
Tian Wentao from School of Mechanical Engineering sent his badge to President Hu and he said "This is the recognition of my volunteer, and we fulfilled expectations of SDJU faculty and students. We did it." As the team leader of SDJU volunteers, Tian deemed it more appropriate to let SDJU keep his badge because of the support and care from school.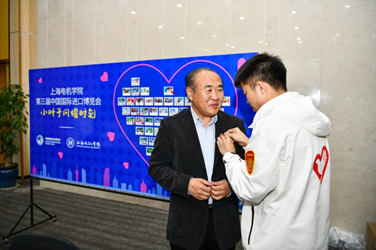 Among all the volunteers, there were two special ones. On campus, they are counsellors on campus but during the Expo, they were just common volunteers. Counsellor Sha Xupei presented his CIIE badge into the hands of Li Xiaojun, Deputy Secretary of SDJU CPC Committee and Vice President. He said, "As a new SDJU counsellor, I am determined to forge forward through continuous learning and hard work, just like what I did as an Expo volunteer." This Expo experience would certainly be remembered as his "highlight moment" in life, which, in the future, would certainly drive him to work harder.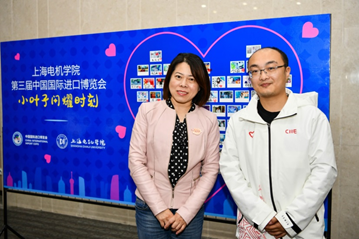 Gratitude and gratefulness becoming key words of "post-Expo" life
Due to the pandemic, the school leaders were not able to visit SDJU volunteers in person. But now that CIIE had ended, they were eager to hear their stories and these volunteers were eager to express their thanks and gratitude.
Zhou Ben is a freshman from School of Electrical Engineering and he extended his special thanks to all the unsung heroes who supported Little Leaves quietly. "I feel grateful when warm breakfast was delivered to our hands every morning, and when security smiled and waved to us at our departure in the morning and return at night. I am even more grateful to every backup volunteer. They also had nucleic acid tests and all preparatory trainings. And their readiness should also be recognized."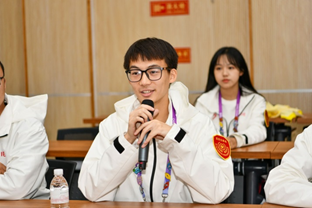 Laying equal stress to approval and expectation, duty and responsibility
Deputy Secretary of Student Affairs Office, Shang Hailong encouraged Little Leaves to add more luster to their university life. "Sacrifice makes your youth inspiring. Ambition makes your youth shining and hard work makes your youth beautiful." Secretary of SDJU CPC Organization Department, Wu Meihua, praised all volunteers on tasks they'd done and congratulated them on lessons they'd learned.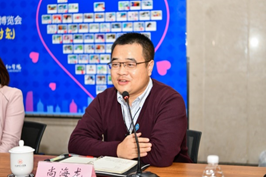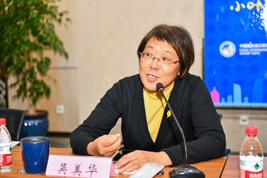 Deputy Secretary of SDJU CPC Committee and Vice President, Li Xiaojun, witnessed the whole journey of these SDJU volunteers, from setoff to Expo opening and today's activity. She affirmed their growth, saw their increasing sense of responsibility, and expected them to carry forward the voluntary spirit and make progress in their academic and daily life.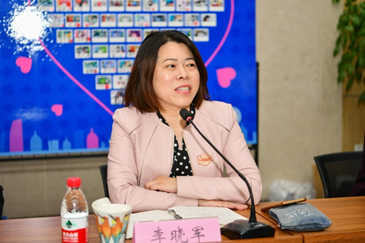 President Hu was deeply moved by the stories that masks had left marks on volunteers' faces after long time wearing, and he thanked their sacrifices for Expo. Because of his experience of getting nucleic acid test, he could relate to volunteers deeply and understand their commitment, hard work and progress. He mentioned that many people dreamed about being a part of the Expo, and volunteers present had their dream fulfilled. Experiencing the CIIE, many would realize how lucky they were to play a role in this international grand event. He also said that at a historical juncture with unprecedented changes, students of SDJU ought to do their utmost to shoulder their responsibility and duty with hard work and sacrifice.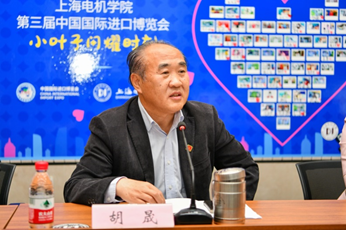 SDJU has recruited 110 volunteers for the 3rd CIIE, among which 62 were distributed to different teams in a variety of locations, including Hub Team in Shanghai Hongqiao Railway Station and Hongqiao Airport, Reception Team in five downtown hotels, and Catering Team around 22 NECC mobile dining cars. Since the training of October 26th till the closure of November 10th, volunteers' fulfilling Expo journey varied from six to ten days. And during the time, volunteers were meticulous with every assignment and handled their job perfectly. With dreams of serving Expo realized, Little Leaves should look forward, heading to their brighter future.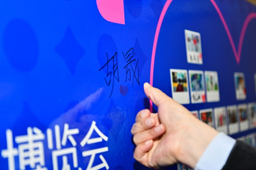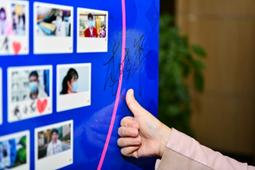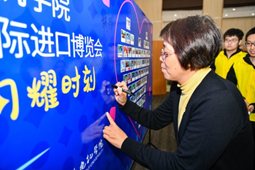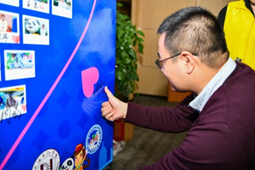 School leaders and representatives from different departments signed their names and stamped loving hearts on the commemorative wall of SDJU Little Leaves.