Cool autumn winds blow and Osmanthus fragrans perfume the air. During the 8-day National Day and Mid-Autumn Festival holiday, SDJU, in order to enrich the holiday life of students staying at school and in strict compliance with the requirements of epidemic prevention and control, held various small campus cultural activities and made students feel warm. At 8 a.m. October 1, the flag raising ceremony of "the red flag flying, dream of a powerful country, youth striving for a new journey marked the beginning of campus cultural activities of the whole holiday.
Especial warmth of the moon in Mid-Autumn
Much delights of the moon cake making
During the Mid-Autumn theme activity of "The National Day meets the Mid-Autumn festival, gathering in campus, making moon cakes altogether with delights", SDJU students cooked in cafeteria kitchen and it make them feel like returning home. A little moon cake is not only the dim sum made for appreciating the moon but also made with people's sincere emotion, great rituals and deep love. All participating students made the cake's skin of reunion and the cake's stuff of happiness, tasted the moon cake from school and feel the warmth of home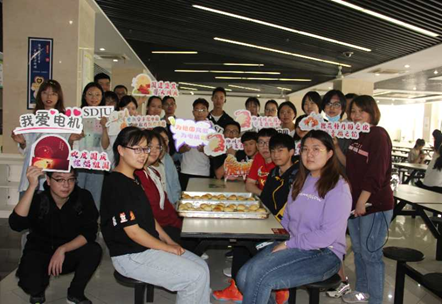 Displaying youth and learning association culture
The autumn performances of student associations were held in the Half-moon Square of Lingang Campus. This time, representative performing societies such as Kwind Korean Art Club, JDC Street Dance Club, Midian Music Bar and other representative performance associations dazzled the stage. Various wonderful performances of dynamic dance and rhythmic rap formed a grand performance scene, attracting countless students to stop and watch. During these performances, the campus was filled with singing and laughter. The atmosphere of the performance has climbed to a climax. Students' association activities not only provide a space for students to relax and entertain, but also provide a stage for students to display their talents. These activities enrich their after-school life, create a vigorous campus atmosphere, and provide students with opportunities for personalized development, enhance the friendship between students, better understand the association culture, feel the youth atmosphere. They have positive effects on the construction of campus spiritual culture!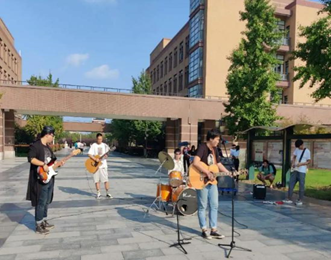 Inheriting the wisdom and strength of all
More than 50 activities, such as The First Book in Autumn reading activity, new generation of entrepreneurship, sports activities, film appreciation, literary history appreciation and so on, not only provided students at school with platforms to display their talents, but also publicized the vigor and vitality of the new youth, and brought SDJU students the warmth of home.