On July 31, Jin Min, professor of School of Materials, published his research as co-first author in Science, the top international academic journal. This is also the first time that SDJU teacher has published high-level paper in such top international journals.
Professor Jin Min and Professor Li Rongbin have cooperated with Shanghai Jiao Tong University, Shanghai Institute of Ceramics, Chinese Academy of Sciences, Xi'an Jiaotong University and Ningbo Institute of Materials Technology&Engineering, Chinese Academy of Sciences, Clemson University as well as other universities and research institutes and discovered two dimensional single crystaline semiconductor material InSe with exceptional plasticity. This achievement was published under the title of "Exceptional plasticity in the bulk single-crystal van der Waals semiconductor InSe". The co-first authors include Assistant Professor Wei Tianran, Reaserch Fellow Chen Lidong, Associate Professor Wang Cunyue. The corresponding authors are Professor/Research Fellow Shi Xun, Professor Jian He, Research Fellow Chen Lidong. And other participating members include Professor Li Rongbin, Professor Shan Zhiwei, Research Fellow Jiang Jun, Research Associate Qiu Pengfei, Assistant Professor Zhao Kunpeng, Doctor Chen Hongyi and Professor Gao Zhiqiang.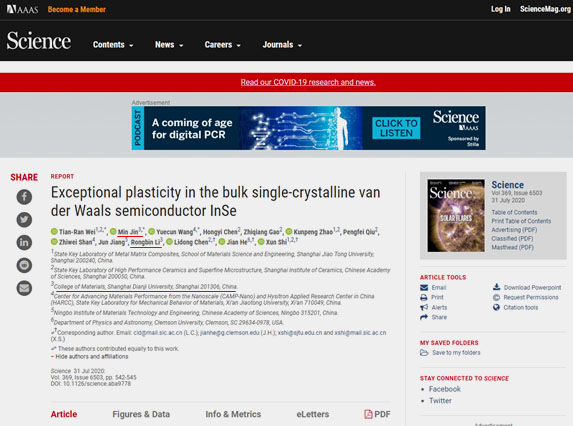 Pic.1 The Screenshot of the Thesis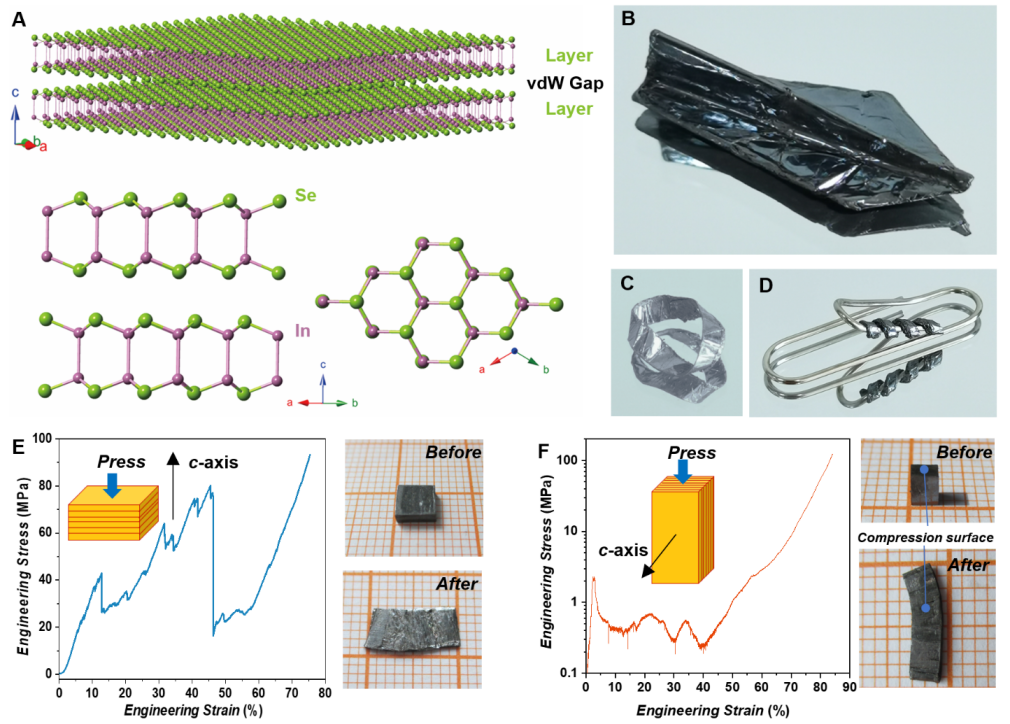 Pic.2 The Exceptional Plasticity of InSe single-crystalline
The research shows that single-crystalline InSe has super plastic deformation ability. It can still remain intact while being bent and twisted, and can even be folded into paper plane or a Mobius strip, showing rare plastic deformation ability. Due to its exceptional plasticity, in the future, the single- crystalline InSe has a bright and broad application prospect in the fields of flexible and deformable thermoelectric energy conversion and photoelectric sensor.
The research team of School of Materials has designed the material composition formula, solved a series of key technical difficulties such as the synthesis of InSe raw materials and the descending method crystal growth technology, and developed the large-scale InSe single crystal preparation technology, and obtained the technology prototype with revolutionary influence. The mechanism of InSe single crystal with super normal plastic deformation ability was revealed by testing the macro and micro mechanical properties and structural characterization of the prepared crystal materials and partners. This research is supported by Research Center of Shanghai for Large Part Hot Manufacturing Engineering.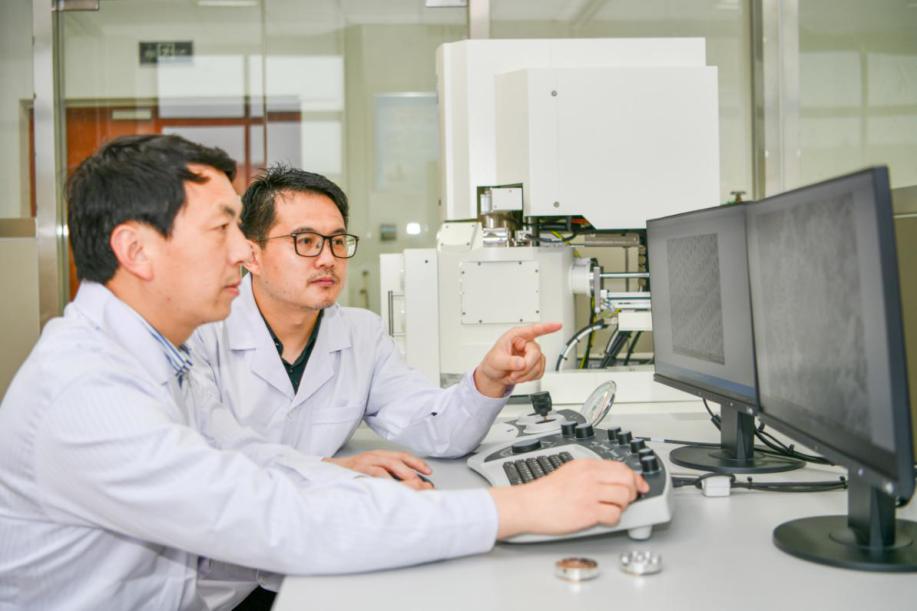 Pic.3 Professor Jin Min(right) and Professor Li Rongbin(left)
Publication of this important research paper by Professor Jin Min as the co-first author is results of over three years down-to-earth, pioneering and innovative efforts of SDJU School of Materials. In the past three years, it is the "three insistence" holding up its innovation and development. First, insistence to the orientation of becoming a college combining teaching and research with high academic level, large platform and strong characteristics. Be oriented to the cutting-edge science and technology and industrial demand, and improve the layout of major specialties and scientific research. Second, insistence to science and education integration, industry and university cooperation in running school, establish a deep cooperation mechanism with universities, enterprises and the scientific research institutes, such as joint research on science and technology, co-construction and sharing platform and joint training of students, and making the School of Materials achieve a high starting point and leap forward development in just over three years. Third, insistence to reformat and innovation, exploring and establishing a secondary college governance system with the construction law of application-oriented undergraduate colleges in regular pattern. Especially in personnel management, since the founding of the School, we don't blindly worship "professional title", "education background", or "qualification", and established our own employment system, performance appraisal system and income incentive mechanism, so as to provide teachers with sufficient platform, full incentive, trust and opportunities, fully releasing teachers' talents and potential.