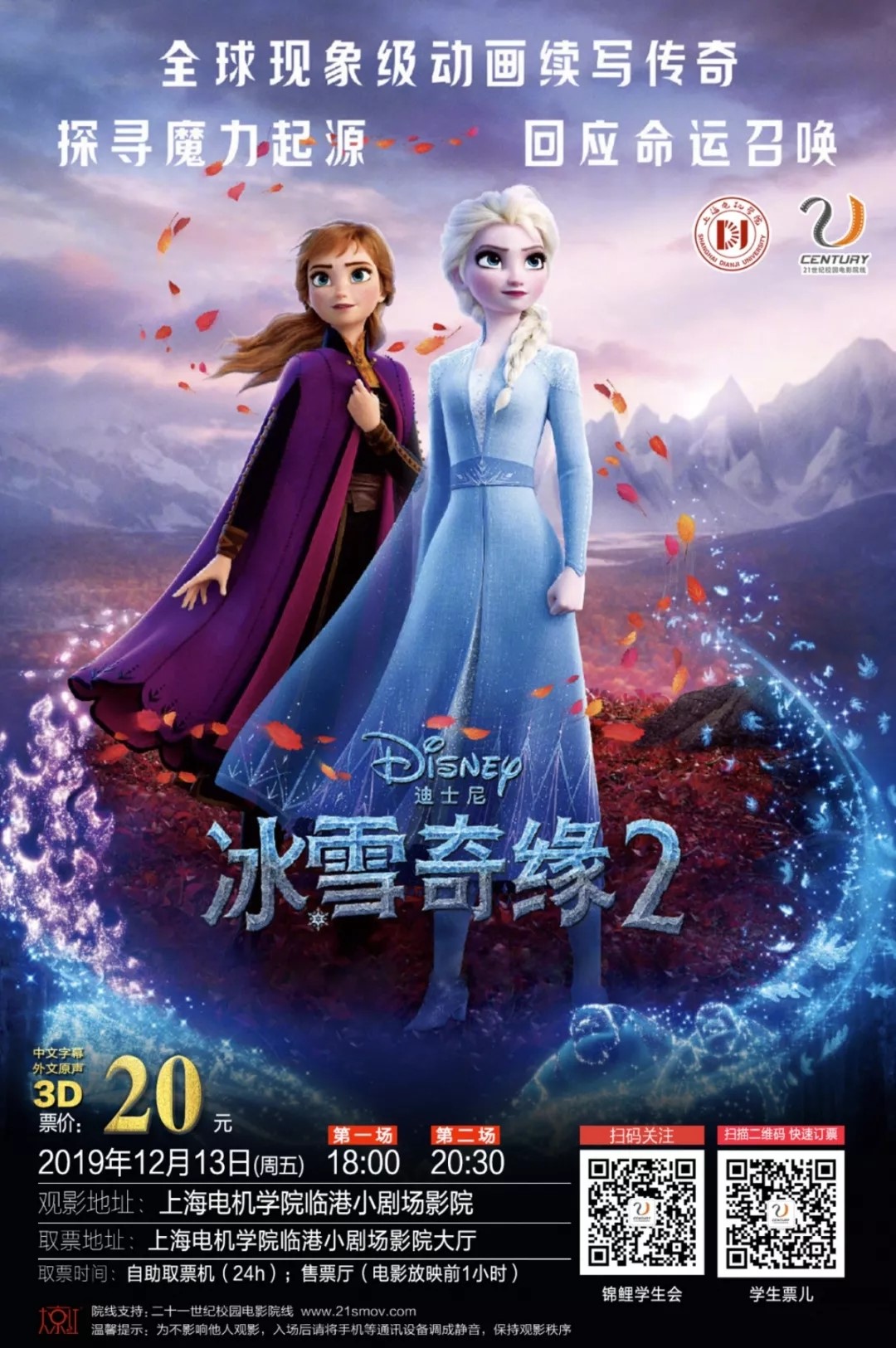 Presented by: Walt Disney Pictures

Directed by: Jennifer Lee & Chris Buck
Date: Friday 13th December 2019 -- 18:00 & 20:30
Venue: SDJU Theatre
Event Type: Performance Arts
Abstract:
Is it a darkly passionate tale of adventure into the unknown? Or should we liken it to a methodical discovery of the answers about the past? The animated musical fantasy Frozen II produced by Walt Disney Animation Studios is, in my opinion, a unique and stimulating blend of these genres. Released in 2019, it is an epic family saga impregnated with action, choice, death, fancy, fear, memory and truth, focusing on the main characters of Anna and Elsa. The atmospheric setting of the wild forest under a spell ingeniously weaves together these violent elements.

Directly Elsa attempts, at no whim or caprice, to venture forth into the enchanted forest, Anna insists on going along with her for company, as a matter of sisterhood. Subsequent to a close encounter with the woodland tribe, Elsa gets on to the path alone to the farther north, where there is a mythical river that holds the truth about the past. Being there inculcated with the reason why she was born with a gift, Elsa becomes frozen herself. With the assistance of her verbose fiancé and experienced soldiers, Anna manages to set things right, and Elsa is henceforth salvaged and freed, so is the enchanted forest.

Elsa is the Snow Queen endowed with incredible magic power, while her younger sister Anna is an ordinary lady equipped with optimism and a warm heart, but both are blessed with a sense of responsibility and perseverance. It is this differentiated resemblance that makes the audience empathize with these characters easily. In fact, this is one of the prime reasons why I think this film is so brilliant.

The soundtrack of the movie can be too impressive to be virtually eradicated from the audience's mind upon hearing it. However, the audience must be warned of fruitlessness and failure on following those chimeras implanted in the fantasy; the result would be what I should call an example of hysteron proteron. Above all, Frozen II is nevertheless remodelled by a lullaby in rhyme, which the former Queen sang to Anna and Elsa when they were children from the outset of the film:
Where the north wind meets the sea,
There is a river full of memory.
Sleep, my darling, safe and sound,
For in this river all is found.
In her waters, deep and true,
Lie the answers and a path for you.
Dive down deep into her sound,
But not too far, or you'll be drowned.
Yes, she'll sing to those who'll hear,
And in her song, all magic flows.
But can you brave what you most fear?
Can you face what the river knows?
Where the north wind meets the sea,
There is a mother full of memory.
Come, my darling, homeward bound,
When all is lost, then all is found.
In conclusion, I highly recommend Frozen II, and I challenge you to remain unmoved after watching this exceptional film.