Internship Lecture by School of Foreign Languages
At 1 p.m. October 11th, SDJU School of Foreign Languages held a special lecture on College Students Internship in the library lecture hall. Cao Yanyan, founding partner and CMO of Utrainee, investment director of US KKI was invited to deliver a speech.
During the lecture, Cao created a relaxed and pleasant atmosphere with her kind and simple words and real life example. She started with a true story. By analyzing two students' academic choices and life planning, she pointed out that college students should plan and prepare in advance. Then for English majors, she emphasized that they can't study behind closed doors or just be decadent. They should pay close attention to the world and have a sense of career planning on the basis of their profound academic knowledge.
For job-hunting undergraduates, Cao explained in three aspects:the first being internship has turned out to be the pass of getting offer from famous enterprises. It has been proved that accumulating internship experience is often more important than a degree in the eyes of enterprises. To seize more opportunities, practical experience must be accumulated first. The second is different ways to get internship information. Generally speaking, intern jobs are classified into company recruitments and summer holiday jobs. Students should be highly aware of these two channels in order to grab intern opportunities when chances come. The third aspect is how to make a qualified resume. Students should be careful. Don't let low-level mistakes ruin job opportunities. Your CV should make the focal points stand out. Stree your experiences which meet the job descriptions. Your CV must be concise. Keep the resume simple for quick skim. You must weigh and consider. Highlight your strengths and avoid weaknesses. Your CV should be accurate. Let numbers and figures take the place of verbal descriptions to enhance credibility and persuasiveness Your CV should be clear. Build a content framework by using the STAR principle to improve logicality. You should be flexible. Learn to package yourself well for an offer and win empathy from professionals by language and statistics.
Cao explained internship and job-hunting from different angles. She shared her own experience of job-hunting without any reservation, which is specific and vivid, and is of great benefit to students' future job-hunting and employment.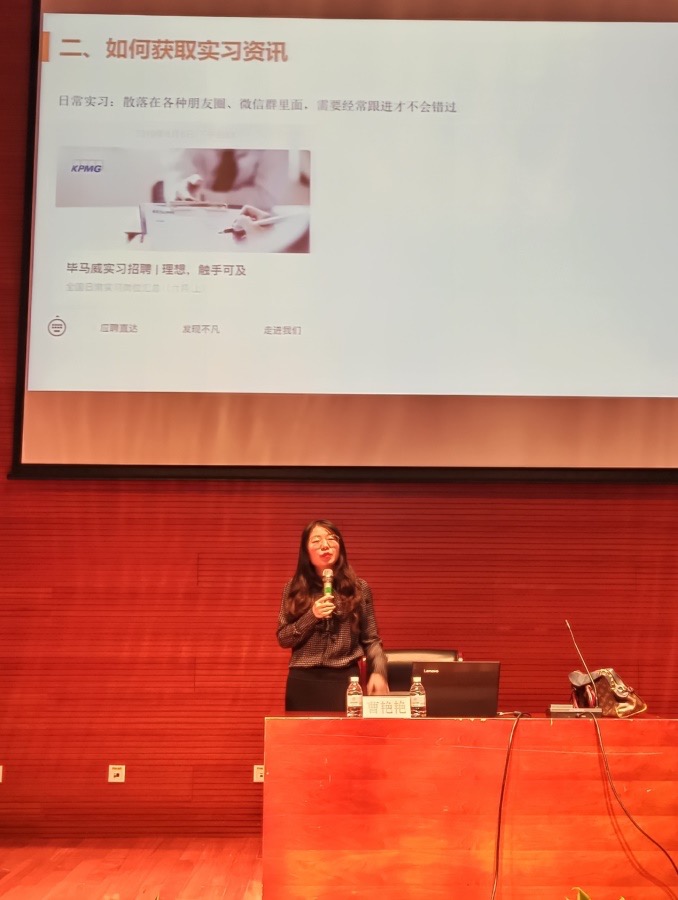 By Pan Meiwen, Zhu Dan