SDJU Co-organized Sino-German Academic Forum "Intelligent Manufacturing" successfully held in Germany
From 7th to 8th November, the 2019 Sino-German Postgraduate Academic Forum on Intelligent Manufacturing, hosted by Shanghai Education Commission and co-organized by SDJU and Kaiserslautern University of Applied Sciences (KUAS), was successfully held in KUAS, Germany. Experts from SDJU, KUAS and Kaiserslautern University of Technology (KUT), as well as over forty postgraduates from Chinese and German universities
gathered together for this splendid academic forum.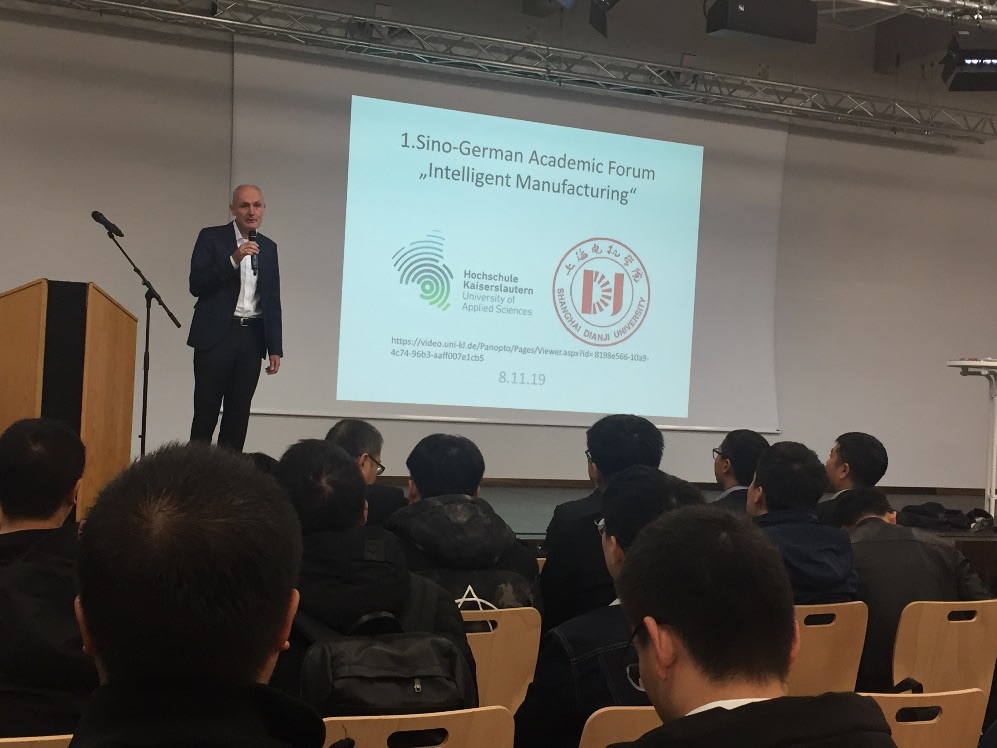 In the morning, Professor Th. Reiner, Dean of KUAS, extended his warm welcome to all experts and postgraduates on behalf of organizer. Professor Opperskalski from KUAS, Professor Jakub Pawlak from KUT, as well as Professor Wang Aiyuan and Associate Professor Wen Chuanbo from SDJU, made excellent reports in automation applied technology, artificial intelligence technology, condition monitoring of wind turbine blades and motor manufacturing respectively. Besides, Doctor Liang Guangfei from SDJU Postgraduate Department talked about education of postgraduates in SDJU.
The group reports in the afternoon consisted of two teacher reports and twelve postgraduate reports. Participating postgraduates were very active in asking questions and they interacted well with each other. In addition, they also displayed their
research results via posters. Participants actively participated in Q&A, expressing their opinions from different perspectives. The academic atmosphere on site was strong
KUAS is one of the overseas universities maintaining a long, close and friendly relationship with SDJU. Both sides have made fruitful achievements in faculty and student exchanges, talent education and so on. This forum further enhanced the academic exchange between SDJU and KUAS, played a good role in broadening the horizon of the postgraduates and exerted huge impact on inspiring students' academic exploration and innovation.
By Liu Yang, Lan Yuanyuan